3 phones that would have made better Pixel 6 devices than the Pixel 6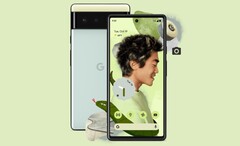 The choices and comments made on this list belong solely to the author.
1. Samsung Galaxy S21 FE
While many complained that the Samsung Galaxy S21 FE was too little, too late, it is still a contender for one of the best Android phones you can get for under US$1,000. At its US$700 launch price, it is a little pricier than the Pixel 6 but still undercuts the Pixel 6 Pro by US$100. One could argue that it represents a solid middle ground between the Pixel 6 and Pixel 6 Pro. Sure, it may not have the fancy Gorilla Glass back, or the much-loved stock Android with Google's little flairs and features. What it does offer is a flagship experience, for less than flagship money.
The Samsung Galaxy S21 FE houses a 12 MP, 1/1.72" sizeable camera sensor with OIS as well as a 12 MP wide angle and a stabilized 8 MP, 3x optical zoom camera. This triple-threat in combination with Samsung's excellent image processing and the powerful processor on-board mean that not only do you get consistently great camera performance, even in low light conditions, but you also get a device that is easy to live with doing day to day tasks. This budget flagship also offers a 120 Hz AMOLED display and an IP68 certification for that peace of mind. It also helps that Samsung has committed to four years of software updates for many of its devices, something not many Android manufacturers can say.
2. Xiaomi Mi 11i
While the Xiaomi Mi 11i may have launched in May 2021, much earlier than the Pixel 6 and Pixel 6 Pro's October 2021 launch, it still managed to pack in competitive hardware. The Mi 11i offers the best that Qualcomm has to offer with the Snapdragon 888 and has more than enough juice to back that up with its 4,520 mAh battery. In addition to this, it packs a 108 MP main camera with a massive 1/1.53" sensor and OIS, as well as an 8 MP ultrawide and 5 MP "telemacro" camera. While the macro lenses found on Android phones are sometimes questionable, the main and ultrawide on this monster do not fail to deliver great images and the OIS on the main sensor means that even night-time photos come out looking sharp.
The obligatory 120 Hz Super AMOLED panel with HDR 10+ support is also present, as is Gorilla Glass 5 protection. The only thing that lets the Mi 11i down is the lack of ingress protection with it's IP53 rating.
3. Motorola Edge (2021)
For those of you who enjoy a more budget device and the stock Android experience, Motorola has just the device for you. Coming in at 6.7-inches with 144 Hz of LCD goodness, the Motorola Edge does not disappoint. Its 108 MP, 1/1.52" main camera is accompanied by an 8 MP ultrawide effort and a 2 MP depth sensor. While these camera modules fall slightly short of the Pixel 6 and Pixel 6 Pro, so does the price of the Motorola Edge 20, coming in at only $499 at the time of writing. Compromises are to be expected at this price point.
Its 4500 mAh battery and lean stock Android OS also make for great battery life, and while the Snapdragon 778G 5G may not be flagship tier, it is certainly fast enough to browse Twitter and "pwn some noobs" in whatever the game of the week is.
My interest in tech started in high school, rooting and flashing my Motorola Defy, but I really fell down the rabbit hole when I realised I could overclock the i7 930 in my Gigabyte pre-built PC. This tinkering addiction eventually lead me to study product design in university. I think tech should improve the lives of the people using it, no matter the field. I like to read and write about laptops, smartphones, software and trends in technology.