Tonino Lamborghini ALPHA ONE hits the UK and UAE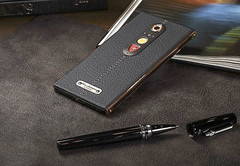 This 5.5-inch Android handset with a (quite outdated) Qualcomm Snapdragon 820 under the hood hits select retail stores in the UK and UAE with a custom Italian leather accompanying phone case. The price tag reads US$2,450.
Back in May, Tonino Lamborghini ALPHA ONE made its debut in Russia. However, it took a while for it to finally reach retail stores in the UK and UAE. On the other hand, those interested in a slightly outdated, overpriced, yet luxury smartphone, can purchase it online no matter where they are located.
The specs of this smartphone remain the same as announced back in May, unfortunately. While the 5.5-inch QHD display does not sound bad at all, the Qualcomm Snapdragon 820 processor should have been upgraded to a Snapdragon 835. The other specs are all right for a high-end phone, but not for a US$2,000+ one - 4 GB RAM, 64 GB internal storage, 3,250 mAh battery, 8 MP and 20 MP front/back cameras, fingerprint reader. The ALPHA ONE runs Android 7.0 Nougat out of the box.
Those who want to pick this US$2,450 luxury handset from a retail store can go in the UK only at Harrod's, while multiple stores in the UAE have it in their portfolio, including the Levant luxury boutique in the Dubai Mall.