The Moto G5 is now available in the Netherlands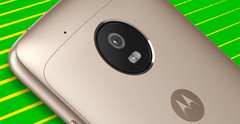 Three Dutch retailers are the first in Europe to have the Moto G5 in stock and ready to ship. The device's €199 price tag matches the price seen in other European pre-order listings.
This month is shaping up to be a very busy one for Lenovo's Motorola brand, whose recently-unveiled Moto G5 (not to be confused with last-year's LG G5) is preparing for its worldwide launch. Motorola's new budget offering was officially announced at Mobile World Congress last month alongside a mention of India getting the device, followed by reports of it heading to Russia, as well as pre-orders going live in Germany. However, it seems Dutch consumers have suddenly jumped to the front of the line, as several retailers in the Netherlands reportedly have the device in stock and ready to ship to buyers.
The Moto G5 is primarily aimed at consumers searching for a somewhat small, budget-friendly smartphone, yet it features decent specifications for the price. The smartphone features a 5-inch, 1080p IPS display; under the hood it runs a Snapdragon 430 chipset, featuring a Cortex-A53 octa-core CPU clocked at 1.4 GHz and an Adreno 505 GPU. 2 GB of RAM covers the memory aspect. The Moto G5's 16 GB of internal storage can be expanded up to 128 GB with a microSD card. The phone has an integrated fingerprint reader, and packs a removable battery rated at 2,800 mAh. A 13 MP main camera and 5 MP front-facing camera round up the Moto G5's main specs.
The price for the Moto G5 in the Netherlands is €199, which is identical to the price seen on earlier German pre-order listings. Price isn't the only thing both places have in common—retailers in both countries are offering the device unlocked and SIM-free. The three Dutch retailers also sell the Moto G5 as part of a standard contract offering, which greatly lowers the upfront cost of the device and splits the remaining cost into equal monthly payments.