SwiftKey 7.0 for Android launches with new languages, make-your-own-sticker, and a new toolbar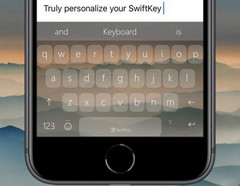 The new Swiftkey 7.0 virtual keyboard app for Android devices is rolling out right now, bringing quite a few new languages to the list of well over 200 which are already supported, the ability to create your own stickers by adding camera roll photos and other elements without leaving the app, as well as a completely new toolbar which provides quick access to all its capabilities.
Back in November 2017, we talked about SwiftKey for the last time. In that case, the team behind this virtual keyboard app added a feature called Photo Themes, as well as a gallery of nature images taken and curated by a top photographer.
However, now only the Android version of the app receives an update, but it is a solid one that promises to improve the user experience more than just a set of background themes, no matter how well those themes might look. SwiftKey 7.0 comes with three noticeable changes: a set of new languages, a new toolbar, and the ability to create stickers using one's own photos without leaving the app.
The toolbar provides quick access to the app's full range of capabilities and features. At the same time, creating new stickers using the camera roll photos, text, and other design elements is possible without leaving the app.
Now, this is the list of the new languages and dialects to be supported by SwiftKey for Android with the release of version 7.0: Ayizo, Aymara, Bariba, Bavarian, Bicolano Central, Ilocano, Kapampangan, Kirundi, Latin, Lombard, Mam, Miskito, Nahuatl, Pangasinan, Tongan, Tulu, Upper Sorbian, and Yucatec Maya.
The update rolls out gradually, so if you install SwiftKey for Android right now, it is very likely to end up with a 6.x version. Since the last time we mentioned it, SwiftKey for Android received more than 100,000 new ratings from its users. However, the number of installs remained in the 100,000,000 to 500,000,000 range and the app's rating apparently got stuck at 4.5 out of 5.