Samsung plans to release 128 TB QLC SSDs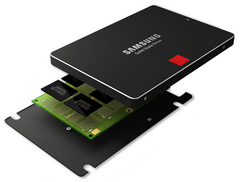 The 128 TB QLC SSD could come in 2019, but, until then, Samsung has plans to launch successors for the 960 EVO and Pro SSDs with the new 970 and 980 64-layer 3-bit per cell V-NAND NVMe series coming in early 2018.
Samsung has recently unveiled its plans for the next two generation of SSD products that are based on the V-NAND technology. The next step for V-NAND is its integration with the new QLC (4-bits per cell) chips. This allows Samsung to manufacture SSDs with storage capacities of up to 128 TB using 1 TB die size chips. Samsung's plans include the possibility of stacking as much as 32 die per package. Even though QLC NAND turns out to be slower than TLC on a per-die level, Samsung claims that it can improve the parallelization factor, and this could raise the overall performance above TLC.

While the QLC V-NAND products might not hit the markets too soon, Samsung at least has plans to upgrade the 960 EVO and Pro SSDs in 2018. Tom's Hardware reports that references for the upcoming "970" and "980" NVMe SSD were found on the UNH InterOperability Laboratory NVMe list. These models are said to be integrating the 64-layer 3-bit per cell V-NAND technology, so it looks like the QLC V-NAND will not hit the markets sooner than 2019.