Samsung may switch to AMD or Nvidia for its Exynos chips in 2018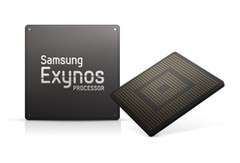 Apparently there are talks between Samsung, AMD and Nvidia to integrate more powerful graphics into the mobile Samsung silicon starting 2018. Samsung also wants to have a CDMA capable modem ready by then.
Sammobile has been able to gather information about talks between Samsung, AMD and Nvidia about integrating the GPU-giants technology into Exynos processors in 2018. As an alternative Samsung is said to be working on their own inhouse graphics technology as well. Apparently Samsung is currently in favor of Nvidia's solution thanks to their advanced Pascal architecture. We could see Exynos chips using AMD or Nvidia GPUs in the Galaxy S9 first, if Samsung sticks to its previous yearly Galaxy upgrade cycle in the future.
Currently Samsung is using ARM's Mali GPU technology. Next year, Exynos chips will improve on that by using Heterogeneous System Architecture (HSA, which should result in performance improvements due to the fact that GPU and CPU can share a common bus. Apart from the GPU tech, Samsung is also working on a CDMA capable Modem for release in 2018. That would enable Samsung to source all high end mobile processors from their own factories instead of using Qualcomm technology in some markets like the US.