Samsung Gear Fit 2 and Gear S3 get minor software updates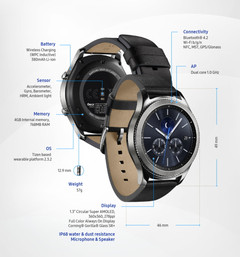 The new software for Samsung's smart wearables only brings minor changes but succeeds in improving the user's experience. The list of new features includes auto pause and indoor set exercises support (Gear Fit 2), as well as speedometer support for the Gear S3 (not confirmed yet).
Although Samsung managed to take a serious hit due to the failure of the Note 7 phablet, the company continues to lead a few markets. Smart wearables might not be selling well in some areas, but the Gear Fit 2 is widely considered one of the best fitness trackers one can get. The Gear S3 smartwatch is also a product that has been well received. This week, both got new software updates.
First, the Gear Fit 2 gets a 21.44 MB update that brings the software version up to version R360XXU1BPK5/R360OXA1BPK5, adding the following: auto pause during exercise, star jumps activity, support for indoor set exercises, Calorie information for Healthy pace, as well as a menu for connecting to a new handset. The update is also expected to improve GPS performance.
Unfortunately, there is not much info about the update for the Gear S3. The new firmware versions are R770XXU1APK3 (Classic) and R760XXU1APK3 (Frontier). According to SamMobile, the new software might bring support for speedometer, but this cannot be confirmed yet.