Review StarTech Thunderbolt Docking Station
Thunderbolt was designed with demanding and high-performance peripherals in mind. Unlike USB as a common interface for mice, keyboards and other novelty items, Thunderbolt can daisy chain displays and servers with relative ease due largely to its very high theoretical bandwidth (10 Gbits/s) compared to standard USB 3.0 (5 Gbits/s) or USB 2.0 (480 Mbits/s). So, what happens when you let Thunderbolt take over a function normally carried out by USB 3.0? The StarTech docking station is looking to find out, and we can already say that it comes out with flying colors.
The StarTech Thunderbolt dock retails for $217 and works exactly like a USB-based docking station sans the USB upstream port. It is certainly pricey compared to competing USB 3.0 docks, but the performance benefits and ease-of-use are both massive improvements over USB-based models as we will soon find out.
Our test notebook of choice is the Asus G750 gaming notebook, which is one of the few Windows notebooks currently in the market with a native Thunderbolt port. The high graphics capabilities of the ROG model should prove useful in testing the limits of the StarTech dock. For our full review of the Asus G750, see here.
As a side note for new users, the StarTech Thunderbolt dock is not compatible with notebooks that carry DisplayPort. While Thunderbolt is backwards compatible with DisplayPort, this is only true in one direction - from the source side. Thus, we recommend checking the official Thunderbolt compatibility list here to see what current models carry Thunderbolt.
The full specifications of the StarTech dock can be found on its official PDF datasheet page here. The following list is our condensed version of the major capabilities and ports available. Note that every retail unit will also come with a basic drivers disc, metal stand, a universal power adapter and a 1 meter Thunderbolt cable.
3x USB 3.0 (5V, 2A, 9-pin)
1x HDMI-out (Type A, up to 1920 x 1080 resolution)
2x Thunderbolt (20-pin, up to 2560 x 1440 resolution)
1x RJ-45 (10/100/1000 Mbps)
1x 3.5 mm mic
1x 3.5 mm headphone
Official support for Windows XP/Vista/7/8 and Mac OS 10.8.3+
189 x 124 x 70 mm
411 g
USB 3.0 Performance
We test the StarTech USB 3.0 performance (powered by the Fresco Logic FL1100-EX controller) with CrystalDiskMark and an ADATA USB 3.0 stick rated for 100 MB/s. The benchmark shows no significant differences from a local USB 3.0 port and a port on the StarTech dock. Although USB 3.0 can have higher transfer rates than our test drive, users should be able to utilize the full speed of all three external USB ports.
None of the ports support Sleep-and-Charge, which is a little disappointing especially at this price range. Our devices do not charge unless if the dock is connected to a host computer even if the dock itself is connected to an outlet.
Next, we connect the dock to an external 1920 x 1200 resolution display and rerun our USB test to see if performance drops. It takes a few seconds longer than normal before the display is detected compared to a local HDMI port, but the external is recognized up to its full resolution without requiring additional drivers or reboots. This is in contrast to the Toshiba Dynadock, which prompts users with a pop-up window to reboot the computer if connecting to an external monitor for the first time.
With HD Tune and a 1080p YouTube video running simultaneously, we record no drops in USB performance yet again. Our test USB drive was able to maintain its average transfer rate of ~75 MB/s regardless of onscreen activity. Here the wide Thunderbolt bandwidth makes no compromises between an active USB port and an external display.
Display Quality
Past USB 3.0 docking stations may have been able to provide good image quality with no onscreen movement via an external monitor. Once a video started playing, however, quality may degrade, input latency may increase and stuttering would almost always occur.
The StarTech is the polar opposite in this regard as picture quality (powered by the Parade Technologies PS181/PS9339B controllers) remain excellent no matter the onscreen activity. Refresh rates are a non-issue (unlike on the Toshiba Dynadock) and we are able to play demanding titles on the dock with no additional drivers. As an example, Guild Wars 2 runs perfectly in 1080p and maximum settings. Such a title would more than likely run into problems if played via a USB 3.0-based dock.
Similarly, 1080p videos will play perfectly. Our test video runs at a very high bitrate similar to Blu-Rays (~40,000 kbits/s) with no dropped frames or frame skips throughout. CPU performance during playback is a steady ~16 percent according to Task Manager regardless if the dock is connected or not or on which screen our video is playing. This is opposite from our results found on the Fujitsu USB 3.0 dock.
As a side note, the official specifications of the StarTech dock rates its HDMI port for a maximum of 1920 x 1080 pixels. However, we were able to output to a native 1920 x 1200 resolution monitor pixel-for-pixel without any additional effort. In addition, users can connect one HDMI monitor and one Thunderbolt monitor simultaneously via the dock, but cannot connect one HDMI monitor and one DisplayPort monitor simultaneously. Connecting one DisplayPort monitor will disable the HDMI port on the dock, likely due to limitations with the controllers and format converters.
Display Latency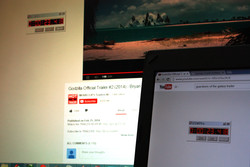 Input lag can sometimes vary with USB-based docks. On the StarTech dock, however, not only is picture quality excellent but user inputs are as smooth as butter. So smooth, in fact, that twitch-based PC titles are playable and indiscernible from local HDMI-out external monitors.
To more objectively capture input latency, we mirrored to an external display connected via the StarTech dock and ran a timer while playing a 1080p YouTube video to represent onscreen activity. With a camera set to a fast shutter speed, we were able to capture both timers at the same moment to show negligible display latency. This is compared to the Lenovo and Fujitsu docks where a 30 ms delay can be observed under the same testing method. Thus, users can expect no jumping or skipping cursors and a lag-free gaming or work environment.
Ethernet Performance
The Gigabit Ethernet port is powered by an Intel WGI210AT controller and did not work on our first try. It was only after installing the driver manually via the included drivers CD was the RJ-45 port able to respond as normal. Fortunately, we ran into no additional problems after this small additional step.
We use the GUI version of Iperf to measure any potential discrepancies, dropouts, and changes in transfer rates when connected via the docking station compared to the local Gigabit Ethernet port on the Asus G750. On the other end, we connected directly to a desktop host server via a crossover cable to avoid routers or other middlemen devices.
When connected to the StarTech dock, JPerf shows a very slight decline in transfer rates compared to a simpler direct connection from the server desktop to the Asus G750 notebook. Bandwidth drops about 50,000 kbits/s at its worst, but this is only less than 10 percent of the 850,000 kbits/s from a direct connection without the dock. Transfer rates are not as steady either as clear crests and troughs can be seen in the plotted data below.
For most users, however, the higher variance in Ethernet performance from the dock is hardly noticeable. Perhaps more importantly, we experienced no random drops or connection issues with the Ethernet port on the StarTech dock. Such an issue would have been much more detrimental to all owners instead of just a select few.
Verdict
Is the StarTech Thunderbolt docking station more expensive than similar USB 3.0-based models? At about $220 retail, the dock can be a hard swallow for some. What we can say for certain, however, is that the performance gains from the Thunderbolt port are well worth the higher price tag for users who will take advantage of the benefits. This is a true consumer representation of what Thunderbolt can offer over USB 3.0 devices.
After reviewing a number of USB 3.0-based models in the past including the Lenovo ThinkPad dock, Fujitsu PR08 replicator, Toshiba Dynadock 3.0, Dell D5000 wireless dock and the Lenovo OneLink dock, we find the StarTech dock to be a breath of fresh air. The dock is almost completely plug-and-play and we experienced no latency or quality issues at all when connected to external monitors via HDMI or Thunderbolt. We observed no drops in USB performance, no frame rate issues and no image degradation from video playback either. Even demanding PC titles can be played via an external monitor through the dock with no additional latency.
It's not without a few minor complaints, however. Ethernet performance via the dock is a tad below a direct connection (~850,000 kbits/s vs. ~800,000 kbits/s) and we had issues at first with streaming audio. Sleep-and-Charge is also not supported, unlike on the more inexpensive Toshiba Dynadock. Beyond that, there is very little to not like about the StarTech model. Users who know they will use the dock for external monitor support regularly should absolutely invest in the StarTech model as performance is unmatched in this respect. Otherwise, less expensive USB 3.0-based models will suffice for simpler USB 3.0 and Ethernet needs.
In the end, the entire experience feels as if we are using local ports straight from the notebook. The StarTech dock is simply transparent as a good docking station should be - something we cannot say for any USB 3.0-based docks currently in the market.
After graduating with a B.S. in environmental hydrodynamics from the University of California, I studied reactor physics to become licensed by the U.S. NRC to operate nuclear reactors. There's a striking level of appreciation you gain for everyday consumer electronics after working with modern nuclear reactivity systems astonishingly powered by computers from the 80s. When I'm not managing day-to-day activities and US review articles on Notebookcheck, you can catch me following the eSports scene and the latest gaming news.