Review Toshiba Dynadock V3.0 Dock
The ubiquity and utility of USB 3.0 have led to an increase in universal docking stations from major manufacturers. The high 5 Gb/s theoretical transfer speed of the port in particular allows many of these docking stations to support Full HD video-out without requiring proprietary docking pins that non-business notebooks typically lack.
Toshiba's Dynadock V3.0 (PA5082U-1PRP) is a simple $99 USB 3.0 dock that carries its own in-house HD graphics card alongside a plethora of additional USB ports. After installing device driver 2.8.1.1 and DisplayLink driver 7.5.52277.0 via the included CD, the dock becomes a straightforward plug-and-play device without any detection or connectivity issues. Updated drivers can be found at http://support.toshiba.com/drivers. In this review, we test the performance of the USB and HDMI-out ports.
Our test notebook of choice is the HP ZBook 15 workstation, which is certainly more than capable to handle HD streaming and USB 3.0 accessories. The specifications of the Toshiba Dynadock V3.0 are as follows:
4x USB 2.0
2x USB 3.0 (Sleep-and-Charge)
1x USB 3.0 (Type B, upstream)
1x HDMI-out (Type A, 5.1 audio output, up to 2048 x 1152 resolution)
1x 3.5 mm mic
1x 3.5 mm headphone
1x Kensington Lock
Official support for Windows XP/Vista/7/8
157 x 106 x 58 mm
170 g
USB 3.0 Performance
We test USB 3.0 performance with CrystalDiskMark and an ADATA USB 3.0 stick rated for 100 MB/s. As shown below, there are no significant differences in drive performance between a local USB 3.0 port and an external USB 3.0 port on the Dynadock V3.0. Users should be able get the full performance from the external USB 3.0 ports. These CDM benchmarks were performed with no external monitors connected.
Next, we connected the dock to an external 1920 x 1200 resolution display. Windows will require a reboot if connecting for the first time, but the connection is plug-and-play anytime thereafter.
With HD Tune and a 1080p YouTube video running simultaneously, the performance of the USB drive drops from ~100 MB/s to ~75 MB/s. We ran HD Tune a second time, this time with no video playing in the background at all, and received a similar ~75 MB/s outcome. The bandwidth of the USB 3.0 upstream appears limiting when accommodating simultaneous video output and USB access. For full USB 3.0 speeds, users should have no external displays connected.
The Sleep-and-Charge functionality works as intended as we were able to connect USB devices for charging purposes. This will work even if the dock is not connected to a notebook and as long as AC outlet power is available. Note that only the front two USB 3.0 ports are Sleep-and-Charge compatible.
Display Quality
Picture quality when connected to an external via the docking station is indistinguishable from an external monitor connected to the notebook locally. There are no brightness issues, no pixilation or exaggerated ghosting. This is great news for graphics designers and general users wanting to use the device for movie playback. Audio is automatically transmitted if the external monitor supports it.
Though the picture may look good, we noticed stuttering when moving the mouse cursor or during video playback. The stutters become worse as we populate the screen with windows and videos. At first we thought that dropped frames were the culprit, but VLC and YouTube statistics showed only a very small number of skipped frames. If the integrated video controller can output our ~40,000 kbit/s 1080p video almost in its entirety, then why were we experiencing stuttering issues?
Refresh rate is the apparent offender as performance improves when moving from the default 60 Hz down to 50 Hz. Both videos and the mouse cursor become noticeably smoother, though small amounts of stuttering are still noticeable. A busy screen full of windows, for example, will still suffer from additional stuttering. This would never be the case if the external was connected to the notebook locally.
Disabling the local display and outputting only to the external does increase performance with the obvious drawback of losing one display.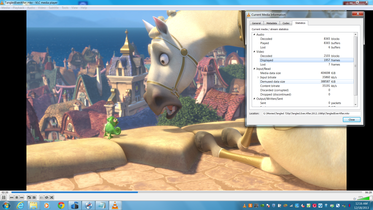 Display Latency
Past docking stations such as the Fujitsu PR08 or Lenovo 0A33970 exhibited onscreen delays of about 30 ms between the mirrored local and external displays. With the Dynadock V3.0, display latency becomes almost negligible when there is low onscreen activity. Our onscreen timer and quick shutter speed captured the timer on both displays at essentially the same moment with no time discrepancies.
We attempted the same test a second time, this time with a 1080p YouTube video playing in the background. Our timer showed an obvious discrepancy indicated by an offset of up to 100 ms. This relates to the stuttering issues above where onscreen latency will also tangibly increase as the screen becomes populated with more windows and images. Return to Windows desktop and performance will jump back to normal.
As expected, onscreen lag becomes much more noticeable when gaming. We popped a quick game of Starcraft 2, which handles fairly well at ~20 FPS on medium settings and is quite playable. However, the cursor and input delays will have a moderate to significant effect on gameplay. Other 3D-intensive or twitch-based games like first-person shooters will likely suffer from similar results.
Verdict
The Dynadock V3.0 is the easiest docking station we've had to setup and use. All of its ports, including its HDMI-out, work out-of-the-box after a quick driver install via the installation disc. The device itself stays relatively warm under use and it is very lightweight for easy handling.
However, there are a few limitations that users should be aware of. Full USB 3.0 speed is available when there is no external display connected, otherwise the ports must share the USB upstream with the external display and will suffer from a decrease in transfer speeds as a result.
Secondly, we are impressed by the picture quality of the HDMI-out, but latency and stuttering issues become more apparent with increasing screen activity. It helps to change the screen refresh rate or disable the local display, but users may find it inconvenient to alter settings or turn off one display in order to improve the playback quality of the other.
Finally, the Dynadock V3.0 does not include an RJ-45 port for LAN connectivity. This is compared to other USB 3.0-based docks where the LAN port is commonly included, albeit they can be more expensive than the Dynadock in review.
With all that said, the Toshiba dock performs as intended by providing six additional USB ports and a video-out with an easy installation. For basic work processing, video playback and browsing, the performance of the video-out port is sufficient. Heavy multitasking and use will expose some of the weaknesses of the dock, but it is also inexpensive for a trouble-free multifunctional USB 3.0 docking station.
The Dynadock V3.0 is available directly from the Toshiba Store for $99.99.
After graduating with a B.S. in environmental hydrodynamics from the University of California, I studied reactor physics to become licensed by the U.S. NRC to operate nuclear reactors. There's a striking level of appreciation you gain for everyday consumer electronics after working with modern nuclear reactivity systems astonishingly powered by computers from the 80s. When I'm not managing day-to-day activities and US review articles on Notebookcheck, you can catch me following the eSports scene and the latest gaming news.