Review Asus Eee PC 1002HA Mini-Notebook
The Neverending Story…
After all the Eee PC models Asus has released since a year (Eee 701, Eee PC 901, Eee PC 1000H, Eee PC S101), the trend continues without stop. The Eee, as father of the mini notebook hype, is still very popular. Furthermore, the evolution of the mini notebooks, which also the Eee PC series has gone through, is easily traceable.
One year ago you had with the Eee PC 701 a seven inch notebook with a Celeron M processor with a clock rate of 900 Mhz and Xandros Linux, an operating system, which needs getting used to, on your desk. A little later, the Eee PC 901 with nine inch screen and Intel Atom processors was available, and nearly fit for work. With the Eee PC 1002HA Asus, the manufacturer, once again decreases the gap between mini notebooks and small and handy subnotebooks.
Case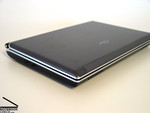 Already at the time of unpacking you'll recognize that the Asus Eee PC 1002HA is a high-quality product. The Asian manufacturer uses a robust and high-quality case made of aluminum with chrome moldings around screen and base unit for its latest notebook. The continuous mouse button, instead of two separate parts, is also made of chrome.
The other parts of this netbook are black and made of high-gloss plastic parts, which let the screen look noble. The aluminum surface the palm rests and the lid are made of is nearly insensitive to dust and dirt, like, e.g., fingerprints. But, the display frame is, because of its high-gloss surface, very sensitive in this regard. If you often open, close or readjust the opening angle, this part requires frequent cleaning.
We are very satisfied with the stability of the case. It and also the lid is very resistant against punctual force. Although the lid slightly gives, this can be neglected compared to other netbooks or notebooks.
The workmanship of this netbook is throughout very good and does not leave anything to be desired. Even scrutinizing the case, we did not find any sharp edges or corners. If at all only the stability of the part between keyboard and display can be criticized. Because this one centimeter wide part is made of plastic and slightly gives upon punctual pressure in the middle, it cannot keep up with the stability of the aluminum parts.
Although the Asus Eee PC 1002HA is also small, the two hinges appear compared to the 10.2 inch screen even smaller. Nevertheless, the two hinges work quite well, and hold the display stable in the adjusted position. The luffing is thereby rather limited and also picking the Asus Eee PC 1002HA up at the completely open lid is no problem. Because of its size this mini notebook does not need a complicated or possibly unhandy locking mechanism.
Connectivity
In regards of connectivity the Asus Eee PC 1002 HA is not that generous like e.g. a multimedia notebook. HDMI and eSATA are again not available. On the contrary the 1002HA model offers only standard ports like USB 2.0, VGA out, and audio ports for microphone and headphones.
In detail the front is free of ports and only occupied by two loudspeakers. The right side offers one USB 2.0 interface followed by the audio ports, microphone and headphones.
The left side houses only two additional USB 2.0 ports.
Finally at the back you'll find a 4in1 card reader, a VGA out, a LAN port, the power socket and the socket for the Kensington lock.
If you think the Eee PC 1002 HA is to small for working at home, you can connect this small netbook to an external screen via VGA. Combined with external keyboard and mouse you can use the small Eee PC 1002HA nearly like a desktop PC. Furthermore, the test sample came with a 1.3 mega-pixel web cam integrated in the middle of the top of the display frame.
In terms of mass storage the Asus Eee PC 1002HA is equipped with a 160GB hard drive from Seagate, which runs at 5400 rpm. 160 GB should really be sufficient for such a small notebook, even more, if you consider that the Eee PCs were equipped with four or eight GB SSDs in the beginning.
In order to advertise with an even bigger mass storage capacity Asus also offers 10GB Eee Storage for the Eee PC 1002HA. This is an on-line storage, where data can always be stored and retrieved provided the Internet is accessible. However, this also requires a very fast Internet access with big band width in order to have an appropriate transfer speed. Otherwise even some mega-byte can tax your patience. So, it might need some time until you've finally used all of the 100GB.
Input Devices
The keyboard of the Eee PC 1002HA is satisfying. Although the keys are about 10% smaller than in standard keyboards, typing worked surprisingly well and did not cause any problems. Typing is throughout comfortable. They only thing, we did not like in practice was the somewhat too short shift key on the right side. However, after some time of adaption this should also not be a big problem. Nevertheless, you should consider an external keyboard if you plan to type long texts.
Alike the predecessor model the Asus Eee PC 1002HA also has a multi-touch touchpad. Basically this means that the touchpad recognizes two simultaneous touches. Except of controlling the cursor and clicking, a number of other features can be implemented that way. You can list, e.g., a zoom option, a magnifier, or fast scrolling by simultaneously striking across the touchpad with two fingers, here.
The touchpad of the Eee PC 1002HA reacts very well and precise on all of our movements. And also the continuous button in chrome look in front of it scores points. It does not only look good, but also works very good. It works silent with a nice clicking noise and has a good feedback.
Display
The Eee PC 1002HA has a 10.2 inch, non-reflecting LED WSVGA display with a maximum resolution of 1024 x 600 pixels, just as netbooks usually have. Despite a matte screen the Asus Eee PC is rather not fit for outdoor usage, because the brightness of the panel is rather disappointing ex factory.
The measured values are in between 83.1 cd/m² in the left upper corner, to our opinion a rather small value, and a maximum of 111.8 cd/m² in the right bottom corner. The average brightness is with 100.4 cd/m² disappointing too. Anyway, the provided brightness is sufficient for use indoors.
However, you should not give the Eee PC 1002HA up in consideration of the display brightness. By means of a tool called 'eeectl', the screen brightness of the new Eee PC 1002HA model can be improved very much. While previously only 83.1cd/m² were possible in the upper left corner, you can achieve a maximum of 207 cd/m² with the 'eeectl' tool. This is a very satisfying value and means an increase to about 249% of the original value.
The same is true for the other parts of this TFT. While the maximum without tool were disappointing 111.8 cd/m², we recorded remarkable 268 cd/m² afterwards, which is an increase to about 240%.
Note: According to Asus this is NOT recommended, because it stresses the display controller even more and possibly decreases the life expectancy. Furthermore, please note that this can also cause problems with warranty in case of damage.
Regarding viewing angle stability the built-in screen performs quite well. In vertical as well as in horizontal direction the viewing angles are quite acceptable.
Performance
Although performance is not the most important aspect for a netbook, we still wanted to see how powerful it is. But, in consideration of this, we only run a few benchmarks. These are 3DMark01, 3DMark03, PCMark05 and the well-tried Cinebench R10.
The core component of this netbook is the Atom N270 processors from Intel, which runs at a clock speed of 1.6 GHz. Graphical calculations are done by an on-board chip, also from Intel, which is clocked with 400 MHz and utilizes a part of the 1024 MB RAM on demand. A 160 GB SATA-II hard drive from Seagate with 5400 revolutions per minute makes the equipment complete.
Now, let's look at the benchmarks mentioned above and their results. These were all as expected and do not stand out of the broad mass of netbook results, neither in the positive nor in the negative. The 3DMark benchmark test from 2001 amounted to 2962 points. In the 3DMark03 the Asus Eee PC 1002HA at least achieved 699 points.
The results of the Cinebench R10 benchmark test in the single- and multi-core rendering were 569 and 862 points. For the shader of the on-board GPU it was 282 points.
Once again we run PCMark05. After some problems in the beginning also this benchmark ran through and assigned 1516 points to the Eee PC 1002HA.
Of course the results of the benchmarks mentioned above are not comparable with powerful notebooks. Nevertheless, the provided performance completely suffices standard tasks, like office applications, browsing the Internet, e-mail, or watching films and listening to music.
The transfer rates and the access times of the 5400 rpm hard drive from Seagate are in the green. With a capacity of 160 GB this built-in HDD should at least for the start offer sufficient space for a music repository.
System information Asus Eee PC 1002HA
| | | |
| --- | --- | --- |
| 3DMark 2001SE Standard | | 2962 points |
| 3DMark 03 Standard | | 699 points |
Help
| | | |
| --- | --- | --- |
| PCMark 05 Standard | | 1616 points |
Help
Cinebench R10
Settings
Value
Rendering Single 32Bit

569 Points

Rendering Multiple CPUs 32Bit

862 Points

Shading 32Bit

282 Points
160 GB - 5400 rpm
Transfer Rate Minimum:
44.5
MB/s
Transfer Rate Maximum:
90.9
MB/s
Transfer Rate Average:
71.5
MB/s
Emissions
System Noise
We can say that the Eee PC 1002HA is good here without bad conscience. With 29.8 dB(A) in idle mode the whirring of the fan is hardly audible. The built-in hard drive is with 31.2 db(A) louder - on access of course. Even under load the Asus Eee PC 1002HA keeps cool, and reaches only an average noise level of 29.8 dB(A) and a maximum of 34.5 dB(A) if you apply full load for a longer time. The later is well audible, but we felt that the noise characteristic is not negative and by no means annoying.
Noise Level
Idle

29.8 / 29.8 / 29.8 dB(A)

HDD

31.2 dB(A)

Load

29.8 / 34.5 dB(A)




30 dB
silent

40 dB(A)
audible

50 dB(A)
loud

min:

, med:

, max:

(15 cm distance)
Likewise the results of the temperature measurements are also satisfying. At the top side of the case we recorded a maximum temperature of only 31.2 degrees Celsius.
The results of the bottom side are also satisfying. The warmest place was the right upper corner, where we measured 32.5 degress Celsius. In practice, when we used the test sample on the thighs, the cool temperatures turned out to be very comfortable.
Loudspeaker
The quality of the sound of the loudspeakers built into the Eee PC 1002HA is really close to what we expected. Although the sound is clear and the loudspeakers do also not overdrive on maximum volume, it is not really full.
While the sound might be sufficient for daily use, we would nevertheless recommend headphones for sensitive ears.
Battery Life
In the BatteryEater Classic tests, this is about the minimum runtime under permanent load, with maximum brightness and active WLAN and Bluetooth, the two cell lithium-polymer battery with 4200 mAh (31Wh, 7.3 Volt) achieves a good runtime of 143 minutes. That is 2 hours and 23 minutes.
In the BatteryEater Reader's test (minimum brightness, WLAN and Bluetooth off, maximum energy saving settings) the Eee PC 1002HA accomplishes a battery life of impressive 297 minutes without recharging.
Also browsing the Internet via WLAN this notebook shows endurance and comes up to 252 minutes, a rather satisfying runtime.
Power Consumption
Off / Standby

0 / 0 Watt

Idle

7.8 / 9 / 10.2 Watt

Load

12.6 / 16 Watt




Key: min:

, med:

, max:
Battery Runtime
| | | |
| --- | --- | --- |
| Idle (without WLAN, min brightness) | | 4h 57min |
| WiFi Surfing | | 4h 12min |
| Load (maximum brightness) | | 2h 23min |
Verdict
Among all other currently available netbook models, their remakes and new releases Asus has a big advantage. Everybody looking for a mini notebook knows the Eee PC. Each new generation of Eee PCs is more mature and so, it is not that easy for competitors to keep up with. The same is true for the Eee PC 1002HA.
Equipped with Intel Atom N270 processors this notebook does not only look elegant and chic, but also professional. Not least the noble design with accentuated placed chrome parts and the touchpad are due to this reputation of the Eee PC 1002 HA. However, our test sample does not only score points by its look. The case has also in terms of stability a lot to offer, because it uses aluminum parts. It proved to be rather resistant against punctual pressure.
Regarding performance the Eee PC 1002HA with Intel Atom N270 processor with 1.6 GHz clockrate, a 945GSE on-board graphic chip, and one gigabyte RAM, cannot keep up with notebooks with Core 2 Duo CPUs. However, this is not that important for a handy and mobile netbook. As mentioned above, the battery life is note-worthy compared to the competitor models, and so is the provided performance of the Eee PC 1002HA.
Unfortunately the Eee 1002HA still does not have an optical drive, which would improve the Eee PCs flexibility - something other manufacturers already noticed and implemented. Nevertheless, the 1002HA model offers everything a contempory netbook needs. Besides three USB 2.0 interfaces our test model also offers a VGA out for connecting an external screen, and a card reader.
If you look for a mature and solid netbook with good workmanship, and stable case in chic design, you cannot do much wrong by choosing the Eee PC 1002HA.
Asus Eee PC 1002HA