Deal | Retailers are dropping this 27-inch QHD Lenovo Q27q-10 monitor to $200 USD this week, comes equipped with FreeSync, 75 Hz refresh rate, and 4 ms response times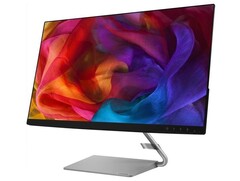 Multiple retailers are slashing prices on the older Lenovo Q27q-10 monitor this weekend likely to make room for Lenovo's inevitable 2021 family of products. The IPS monitor originally launched for $300 to $350 USD but users can now get one for just $200.
The most compelling features of the monitor are its large 27-inch display, 75 Hz refresh rate, 1440p native resolution, AMD FreeSync support, and fast 4 to 6 ms response time. Such features would normally cost a lot more on a monitor of this size class.
Nonetheless, there are major drawbacks to keep in mind. Firstly, the VESA mounting screws are near the bottom of the back instead of the center which means the monitor may not be at an appropriate height for workspaces with existing VESA mounts. Secondly, color covers up to sRGB at best and so graphics editors will likely want to skip this monitor. And lastly, the bezels of the screen are noticeably thicker than what the promotional images claim them to be,
For office work or the occasional game where colors need not be accurate, however, the Lenovo Q27q-10 may be worth considering especially at its sale price.
After graduating with a B.S. in environmental hydrodynamics from the University of California, I studied reactor physics to become licensed by the U.S. NRC to operate nuclear reactors. There's a striking level of appreciation you gain for everyday consumer electronics after working with modern nuclear reactivity systems astonishingly powered by computers from the 80s. When I'm not managing day-to-day activities and US review articles on Notebookcheck, you can catch me following the eSports scene and the latest gaming news.