Reliance Jio's Rs. 2,121 plan has you covered for 336 days with 1.5 GB of data per day, and more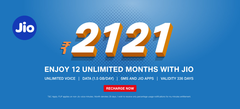 Reliance Jio has announced its Rs. 2,121 ($30) plan that gives subscribers 1.5 GB of mobile data per day along other benefits such as 12,000 minutes of talk time for other networks, and access to Jio apps. The announcement comes shortly after rivals Airtel and Vodafone announced their long-term plans.
For the longest time, Indian network providers have come up with nifty ways to nickel-and-dime consumers. Practices such as truncating a monthly plan to 28 days, charging ridiculous amounts of money for data overage, and the likes were rampant in the industry. That is a part of the reason why Reliance Jio was so well-received. It made things a lot easier by introducing the concept of daily data limits, unlimited calls to all networks, and long-term plans. The network provider has now launched a new package for users who can't be bothered about recharging their phones every few weeks.
Reliance Jio's newest Rs. 2,121 ($30) plan allows its users to use 1.5GB of mobile data per day. It has a validity of 336 days (~11 months). Jio-to-Jio calls are free, and you get 12,000 mins worth of talk time for non-Jio numbers. You can also send up to 100 SMS messages a day. Just like with every other plan, you get free access to Jio apps such as Jio Movies, Jio Music, and the likes. The announcement comes just days after Vodafone and Airtel announced their annual plans with similar offerings.