Poly Voyager Focus 2 review: Capable business headset with several QoL features
Remote work has become a mainstay these days leading to an increasing demand for products that help in effective collaboration. While there is no dearth of quality headsets and audio equipment, not many tend to have a heavy focus on office use.
Professional headsets are preferred in business environments given their increased emphasis on voice quality than anything else. These headsets usually sport a minimalist design and offer multiple connectivity options, with the more expensive ones even allowing for IT administration.
Plantronics was among the first headset makers to pioneer hands-free calling over Bluetooth. The company was acquired by Polycom in 2018, which later had a rebranding as Poly. Poly's focus has since been on workspace collaborative equipment for the office. In March this year, HP acquired Poly for US$3.3 billion including debt.
It's been about a year since Poly first introduced the Voyager Focus 2, but the headset has made its way to India only this year. Poly offers a two-year warranty on the Voyager Focus 2. However, the asking price can be as high as ₹52,999 (US$642) with accessories included.

Previously, we tested the Poly Sync 20+ smart speakerphone. Now, we got some time to spend with the company's new Voyager Focus 2 wireless headset and test out its utility for remote work and professional use.

Features and build quality: Can be worn all-day long
In the box, you will get the Voyager Focus 2 headset itself, a BT700 Bluetooth dongle, Voyager Office base with USB-C, a USB Type-C charging cable, and a carrying pouch. The Poly Voyager Focus 2 makes use of durable materials that give it a premium and sturdy look. The adjustable metallic headband has a cushion that is very comfortable for extended usage without a feeling that something is sitting on your head.
The cushioning makes the rotatable ear cups quite comfortable to wear, although extended listening sessions at high volumes might prompt you to take them off for a while. Interestingly, there is no left/right speaker demarcation with the Voyager Focus 2 — you can position them however you please. Consequently, the boom microphone can be rotated in either direction depending on your preference. Positioning the microphone upright will automatically mute it, but you can also use the tiny button on the boom mic to manually put mute if needed.

Connectivity and controls: Decent options with visual cues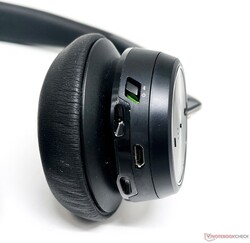 The Poly Voyager Focus 2 offers a decent array of connectivity options. The headset can be directly hooked to a computer using the supplied micro-USB to USB-C connector. Bluetooth 5.1 is supported, so you can pair it easily with your smartphone. However, like the Poly Sync 20+, you need to use the included BT700 dongle for wireless connection to a PC. The dongle offers lighting cues to indicate call in-progress and mute status.
A good majority of the options can be adjusted on the headset itself. There are distinct buttons to toggle Bluetooth on/off and to adjust the active noise cancellation (ANC) levels from 0 to 2. The ear cup that includes the boom microphone has volume controls as well.
Apart from volume controls, the ear cup also has a dedicated Microsoft Teams/Call button that allows you to call or hang up with just a press. Additionally, the Call button can also be used to invoke the smartphone's default voice assistant (press and hold for two seconds), skip to the next track (double tap), or play the previous track (triple tap).
App controls: Easy configuration of headset functions
There are a few ways to control various aspects of the headset. The Poly Lens app for Windows and Mac offers an easy way to customize various aspects of the headset, check battery status, and update the firmware for both the dongle and the headset itself. Android and iOS versions of the app are yet to be made available, but you can use the Plantronics Hub app in the meanwhile. It is possible to connect two Bluetooth sources to the headset at once.
A nifty quality-of-life feature in the Voyager Focus 2 is that the active sensors in the device can automatically mute/unmute the mic or pause/resume music when you take off/wear the headset. The feature works for the most part, but we observed that it's not always reliable. Playback stops once the headset is taken off, but it often resumes by merely rotating the ear cups or changing their orientation.
Desktop users can use the Poly Lens app while mobile users have to make do with the older but quite functional Plantronics Hub app. The Poly Lens apps provides an overview of the connected headset or dongle, battery level, and a Settings page where most of the customization is done.
Both the desktop and mobile apps allow features such as Find My Headset and setting Noise Exposure limits. Also provided is the ability to enable G616 anti-startle toggle to protect your ears from sudden shock by limiting the peak volume to 102 dBSPL.

Call quality: ANC needs more work
The Voyager Focus 2 is primarily targeted at the business crowd, but it also doubles-up as a decent headset for music playback. The boom mic is capable of only single channel 16-bit 16 kHz recording, which is akin to tape-recorder quality. Nevertheless, it should be sufficient for getting your voice heard clearly in online calls. The low bit-rate also helps in efficient transmission over slower networks.
Poly talks about the Voyager Focus 2's digital hybrid ANC abilities a lot in its marketing. The positioning of the boom mic close to your mouth creates what Poly calls an Acoustic Fence, which means that your voice already takes precedence over background noise.
There are two micro-electromechanical systems (MEMS) mics towards the inner ear cups that can cancel out unwanted noise at the ear. Additionally, two other microphones on the outer surface of each ear cup cancel out external noise. The Voyager Focus 2 gives the user some level of ANC control with a dedicated ANC switch that can toggle between 0 (no noise cancellation), 1, and 2.
Poly claims that its ANC implementation does not give the feeling of an ear block while talking. While we found this to be largely true, your ears can definitely sense the ANC when it's working.
We found that the noise cancellation is not too heavy — we could still hear background noise seep through even at the highest ANC setting. So, while the feature does come in handy while taking calls on the move or in a typical workplace, do not expect it to offer an absolutely quiet environment.

Playback quality: Not for bass heads
Playback quality serves well if you are primarily into stereo sources. The maximum loudness can be up to 82.31 dB(A), which should provide a loud-enough sound stage. As evident from the pink noise diagram, the Voyager Focus 2 is definitely not a headset for bass heads as the bass response is not that great. The mids and highs seem to be acceptable, however.
The Voyager Focus 2 gets the job done for basic music needs. The headset is best suited for stereo audio. Movies encoded in multi-channel formats do not sound well even after down-mixing to stereo.

Playing back a 1 kHz sine wave, we see that the frequency response curve is not a smooth one. Higher amplitudes are seen only at higher frequencies, which means that the Voyager Focus 2 does better with vocals and other high frequency music than with lower frequency notes.
The total harmonic distortion (THD) is quite low at 0.18%, but this rises to 0.35% when background noise is considered. The signal-to-noise ratio (SNR) is 57.2 dBFS, which is enough to make most instrument notes perceivable during playback.
All measurements were taken with the Voyager Focus 2 connected to the PC via USB and with an Earthworks M23R omnidirectional reference microphone placed equidistant between the two ear cups.

Battery life: Gets you through a typical work day
The Voyager Focus 2 includes a built-in 560 mAh Li-ion battery, which takes about two hours to completely charge. Poly rates this battery at up to 18 hours with ANC off and other settings at default, but we managed to get up to 16 hours in our testing.
Exact run times will depend on other headset settings and specific usage patterns, but it should be possible to get more than a day's run time with this headset without having to rush for the charger.

Verdict: A capable business headset that needs to be priced better
The Poly Voyager Focus 2 is built to cater to business professionals who need reliable voice communication whether at work or on the move. The headset has a premium look and feel and, for the most part, the Voyager Focus 2 comes across as a capable communications device.
The Voyager Focus 2's ear cups can be positioned in whichever manner you prefer, and the boom mic can be rotated accordingly. All controls on the ear cup are within easy reach, though accessing the ANC controls can be a tad bit cumbersome. Poly has ensured that the headset does not feel like a burden even after wearing it throughout the day, which is commendable.

The Poly Lens app on PC and Mac provides an easy interface for adjusting various headset features. The Plantronics Hub on iOS and Android get the job for the most part, but the interface can use a facelift. The headset is also IT admin-friendly in case businesses require such flexibility.

The Poly Voyager Focus 2 comes across as a capable headset with several quality-of-life features for VoIP collaboration while also being just about adequate for casually unwinding to music. Expectations in other areas need to be tempered.

The Voyager Focus 2 is adequately loud. The primary aim of this headset is business collaboration, and the sound characteristics are thus tuned accordingly. The headset is also amenable to music, but lower-end frequency response is not adequate. Another area where we would like to see improvements is the ANC. The ANC is suitable for a typical workplace or home-office environment, but the background noise is still perceivable even at the highest ANC level.
Connectivity options are decent, but a direct connection to the PC should be made possible without having to rely on a separate dongle. Overall, the Poly Voyager Focus 2 is well-suited for its target demographic, but there's indeed scope for improvement in many areas.
Price and Availability
The Poly Voyager Focus 2 is available from Amazon US for US$249. Newegg is currently offering the Voyager Focus 2 for US$207 complete with a charging stand.
In India, the Voyager Focus 2 with the charging stand is available for at a high markup of ₹66,890 on Amazon India, while the variant without a stand can set you back by ₹42,754.
Disclaimer: The author received the Poly Voyager Focus 2 headset as a sample device for testing purposes only.

Though a cell and molecular biologist by training, I have been drawn towards computers from a very young age ever since I got my first PC in 1998. My passion for technology grew quite exponentially with the times, and it has been an incredible experience from being a much solicited source for tech advice and troubleshooting among family and friends to joining Notebookcheck in 2017 as a professional tech journalist. Now, I am a Lead Editor at Notebookcheck covering news and reviews encompassing a wide gamut of the technology landscape for Indian and global audiences. When I am not hunting for the next big story or taking complex measurements for reviews, you can find me unwinding to a nice read, listening to some soulful music, or trying out a new game.