Nokia might be working on foldable devices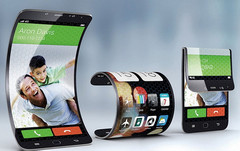 Nokia seems to be back in the game on all fronts, including the apparently next big thing in the industry, namely foldable devices. At MWC, the company is expected to unveil quite a few new products and prototypes, including virtual reality devices, smart wearables, and more.
After leaving Microsoft behind, Nokia is now apparently on its way to a new period of growth. In addition to the new smartphones that would cover all areas of the market by the end of the year, the HMD Global-owned brand might soon join the big names in the industry and release at least one foldable device.
A recent patent filing reveals a unique Nokia design and it seems to have gone a long way so far. Originally filed back in 2013, the patent was only granted last year. The diagrams show a device with a clamshell design that seems to accommodate most hardware in the two halves that fold, while the display can apparently bend in half just enough to fit inside the shell once it closes.
Samsung and LG might at least show working prototypes of their upcoming foldable devices later this year, while Nokia is expected to step into new markets at MWC. These new markets target virtual reality, health applications (most likely a fitness tracker and its companion app dubbed "Digital Health"), as well as others. Next month, we might even see a new foldable device prototype at MWC, so stay tuned.