New AM4+ compatibility king? ASUS ROG X570 Strix with 256 Mb BIOS will support ALL AM4+ Ryzen processors: from purported Zen 3 Ryzen 7 4700X, to Zen 2, to Zen+, all the way to the venerable Zen 1 Ryzen 3 1200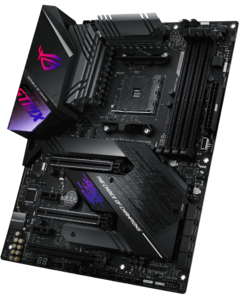 ASUS recently stated that it will enable support for all four generations of AMD Ryzen processors on its ROG Strix X570 motherboard. This means that ROG Strix X570 board users will be able to use everything from upcoming Zen 3 processors like the purported Ryzen 7 4700X to Zen 2 mainstays like the AMD Ryzen 5 3600, to older Zen+ parts like the Ryzen 5 2400G APU, and even the 2017-vintage AMD Ryzen 5 1600.
This move is surprising considering how AMD itself nearly decided to limit processor compatibility on AM4+ B450 and X470 boards. ASUS's decision makes the ROG Strix X570 particularly attractive to buyers with older Zen parts looking to upgrade to a Zen 3 processor later this year. The X570 chipset will enable support for newer goodies, without forcing them to throw out their old Zen 1 or Zen+ processor.
The ROG Strix X570 board is able to do this thanks to the inclusion of a 256 Mb BIOS with enough space for the extra compatibility code. With Intel making new chipsets obsolete every two years (Comet Lake S requires new LGA 1200 motherboards), it' heartening to see an OEM support four entire generations of AMD Ryzen processors.
I've had a passion for PC gaming since 1996, when I watched my dad score frags in Quake as a 1 year-old. I've gone on to become a Penguin-published author and tech journalist. Apart from working as an editor at Notebookcheck, I write for outlets including TechSpot and Gamingbolt. I'm the Director of Content at Flying V Group, one of the top 5 digital marketing agencies in Orange County. When I'm not traveling the world, gathering stories for my next book, you can find me tinkering with my PC.