Motorola's 2017 flagship, the Moto Z2 Force, gets leaked picture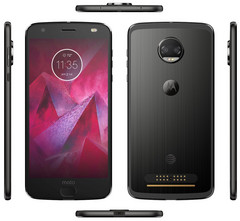 An image of Motorola's 2017 flagship, the Moto Z2 Force, was leaked by Evan Blass via Twitter.
Motorola already launched its mid-range smartphone in the form of Moto Z2 Play last month, and the specs for Moto Z2 were leaked a week ago. Rumors about a flagship variant have recently surfaced and today we get to actually see how the Moto Z 2 Force is going to look like, thanks to Evan Blass who provided the image via Twitter.

The leaked image reveals that the home button seems more rounded than the one from last year's model. If we are to extrapolate the specs from last year's Moto Z Force, the updated Moto Z2 Force could come with a more rugged case and display, an increased resolution back camera and a bigger battery compared to the Moto Z2. One thing that the Z2 and Z2 Force have in common, however, is the full compatibility with all the Moto Mods, including all the latest sound systems and the upcoming Moto Gamepad.