Microsoft Surface Duo peek function just makes the foldable device even more desirable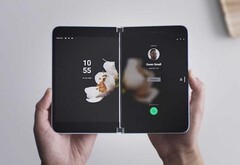 A new peek function for the upcoming Microsoft Surface Duo foldable device has been leaked. A couple of short video clips have been shared on Twitter that show the smartphone being opened only slightly but still allowing the user to "peek" at notifications and call information on the far right-hand side of the display.
The Microsoft Surface Duo is an attractive device and could be the answer to some of the questions that have been asked about the current state of the foldable smartphone market. Although the Android smartphone does not sport a flexible display, it does have a sturdy and appealing aesthetic to it that could more than compensate for hit-and-miss flexibility. It even has a handy peek function to allow users to glance at notifications without having to completely open it.
A couple of short video clips (see embedded tweet below) shared on Twitter by WalkingCat show the Microsoft Surface Duo in operation. The first clip highlights the peek feature for notifications: The device is only slightly opened, revealing a host of information on the right-hand side of the internal dual-screen. It's a discreet way for a Surface Duo user to check their device without having to expose both displays to the world.
The second clip shows the peek function again, but this time there is an incoming call being shown, and the owner of the Microsoft Surface Duo can then decide whether they want to take the call or not. The whole device is opened up to show both displays and the green accept call button is selected; it has been speculated that simply closing the Surface Duo will reject the incoming call. It's a cool feature that adds to the overall desirability factor of the Duo, which should be released in the second half of this year (holiday 2020).