Mantiz Titan Thunderbolt 3 Dock Review
Case
The Mantiz Titan dock's case is well-manufactured, well-designed, and made of high-quality materials. The bottom is completely rubberized and thus sits without budging on all kinds of surfaces. The aluminum case is cleanly manufactured and has a high-quality feel. The top of the case stops short of the rim to enable air exchange. A black grille sits just underneath the opening - a nice look but potentially difficult to clean.
Heat generation
The aforementioned ventilation is certainly necessary, given that the case warms up substantially. We measured around 37 °C (98.6 °F) in a room kept at 21 °C (69.8 °F) - our contact-based measuring tool registered the device's hottest spot at 38 °C (100.4 °F) on the top. The power supply that comes with the dock also warms to 38 °C (100.4 °F) - a normal temperature for such a unit.
Volume
Mantiz did not equip the Titan with a fan, but even so, the little box does not remain silent. In our tests, we heard a very quiet hissing stemming from the transistors (audible within around 30 cm / 1 foot of the device in very quiet environments, but not bothersome) and a relatively loud transistor-based whistling sound when connected to USB devices with higher energy demands. When our Anker Wireless Charger was plugged in and topping up an iPhone X, the dock produced a clear and irritating whistling sound (once again, in a quiet environment). Users in open-plan offices will hardly notice this, however.
Ports and compatibility
In our tests, the DisplayPorts worked flawlessly in conjunction with, for instance, the Philips Brilliance 328P on the MacBook Pro 15 under OS X 10.13.5 (in 4K at 60 Hz and with supported Retina scaling). Unfortunately, the two USB-A ports have a power rating of just 4.5 watts, which means some external hard drives cannot run without their own energy source. For example, our Hitachi 2.5-inch HDD with adapter failed to run, but a 4 TB WD My Passport had enough energy to function. Mantiz told us, however, that the manufacturer is targeting 7.5 watts for future versions. This should enable USB devices with higher energy needs to run on the power provided by the dock.
Energy consumption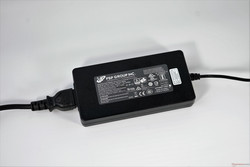 According to our test device, without a connection to a laptop, the docking station needs 0.2 watts of energy. As a result, users can leave the power supply plugged in without worrying about the energy bill. In our test scenario, our MacBook Pro 15 consumed 46 watts with the included power supply and 50 watts when connected to the Titan. In exchange for the additional functionality, the 4-watt difference is completely acceptable. The power delivery function always worked reliably during our tests, though it is necessary to make sure the plug sits securely in the socket. This problem is not as pronounced as it was for the DockCase, but it can lead to errors. In one case, for example, our connected keyboard did not work, but our MacBook Pro still charged.

Verdict
The Mantiz Titan is a small, elegant Thunderbolt 3 Dock that scores points for its good manufacturing quality. The video outputs count among the Titan docking station's strengths: Two DisplayPorts (4K60 capable), HDMI 2.0a and an analog VGA output should be adequate for any application. In our tests, we only had problems with the two USB-A 3.0 ports. The ports only provide 4.5 watts of energy, which can cause problems for HDDs (some of ours were not recognized). The dock also generates an audible transistor-based whistling sound when connected to devices with higher energy demands (ex. the Anker Wireless Charger). As a result, use of the USB ports is mainly limited to USB sticks and mice/keyboards. For those who can live within these constraints, the Titan is an elegant port expander that is perfectly suited for use with current MacBook Pro models.
At present, the Titan can be purchased via the Mantiz online store for $219 (~187 Euros), including free shipping (recommended retail price $229). The dock is not yet listed on Amazon, but most of the competition available at Amazon is somewhat more expensive (see an Amazon search for "Thunderbolt Dock").
I am one of the founders of Notebookcheck. My primary focus is on articles about new CPU and GPU technology. With my scientific background (Ph.D. in computer science) I try to put facts before feelings in my work. I have been writing and working for Notebookcheck since 2005.