MSI retrofits Vortex G25 PC with Quadro GPUs, calls it the Vortex W25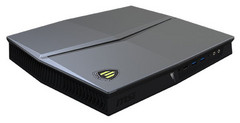 The Vortex W25 will be one of the smallest and fastest workstation SFF PCs with 16 GB of GDDR5 VRAM. MSI calls it the ideal solution for high-end 3D or VR tasks as the small unit can be VESA mounted behind monitors and be disassembled rapidly without the need for tools for upgrading storage and RAM.
In typical MSI fashion, the manufacturer has taken a successful design from its popular G-Series of gaming PCs and swapped out the GeForce GPU for a Quadro GPU as part of its fledging W-series of mobile workstations. The gaming-centric Vortex G25 is the latest victim to have its GTX 1070 GPU removed for up to a Quadro P5200 to appeal to workstation and business users. This GPU in particular is equipped with a whopping 16 GB of GDDR5 VRAM to be twice as much as even the fastest gaming laptop for a performance level that is roughly on par with the GTX 1070.
Aside from the GPU change, the rebranded Vortex W25 is essentially identical to the Vortex G25. The chipset has been updated to support desktop Coffee Lake CPUs, but the chassis and its connectivity features have not changed. It's worth noting that the CPU is removable while the GPU is likely soldered unlike on the Trident 3 where both the CPU and GPU are end-user upgradeable.
The Vortex W25 made its first appearance at CES 2018 and it is now finally shipping for a starting price of $2100 USD. The system will soon be followed by the internal refresh of the WE63, WE73, WS63, and WT75 workstation laptops.