Lenovo: Is the Tango-phone Phab 2 Pro late?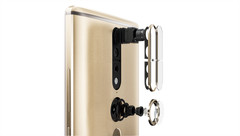 Lenovo announced the Tango-Phone 2 Pro, the first commercial system with Google Tango, on their own event "TechWorld" for a release "this summer". Now it seems like Lenovo can´t hold that promised release-windows, as their website now shows a later release date. So far, we can only speculate, Lenovo hasn´t released an official reaction to the rumors yet.
The Phab 2 Pro is an important product for Lenovo, it is supposed to help to get the declining smartphone-business of the Chinese giant back on its feet. Ultimately, it is the first smartphone/phablet with Google Tango, the AR system, which allows your phones camera to "see the 3rd dimension". A few weeks back on IFA 2016 in Berlin, the phone was featured prominently on Lenovos booth.
Now it seems like the release of the device is delayed. When Lenovo announced the Phab 2 Pro on their "TechWorld" event in June, they promised a release "this summer". Recently however, the product page was quietly updated, it now says "releases in Fall".
This change seems logical, after all summer is ending next week. To release the phone in time would be ambitious now. The exact date of the release is still not clear, some Lenovo product sites in Europe still state the old summer release-date.