Lenovo Ideapad 320/320S series launching in time for back-to-school season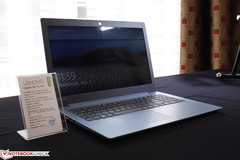 The updated notebooks start at just $439 USD with a 15-inch 768p display or $749+ USD for a Full HD version with GeForce 940MX graphics, backlit keyboard, Windows Hello Support, and a larger internal battery.
The entry-level Ideapad 320/320S series supplants the older Ideapad 310 series to be the notebooks of choice for buyers on a budget.
The table below illustrates some key features and differences between the new 15.6-inch Ideapad 320, 17.3-inch Ideapad 320, 14-inch Ideapad 320S, and 15.6-inch Ideapad 320S:
| Ideapad 320 15 | Ideapad 320 17 | Ideapad 320S 14 | Ideapad 320S 15 |
| --- | --- | --- | --- |
| 15.6-inch 1366 x 768 resolution, Touch optional | 17.3-inch 1600 x 900 resolution, Non-touch | 14-inch 1920 x 1080 IPS, Non-touch | 15.6-inch 1920 x 1080 IPS, Non-touch |
| HDMI, RJ-45, 2x USB Type-A, 1x USB Type-C, SD reader | HDMI, RJ-45, 2x USB, 1x USB Type-C, SD reader | HDMI, USB 3.0, USB 2.0, USB Type-C, SD reader | HDMI, USB 3.0, USB 2.0, USB Type-C, SD reader |
| 30 Wh battery | 30 Wh battery | 52 Wh battery | 52 Wh battery |
| 2.2 kg | 2.8 kg | 1.7 kg | 1.9 kg |
| 378 x 260 x 22.9 mm | 418 x 292.6 x 24.9 mm | 327.4 x 236.5 x 19.3 mm | 362.7 x 252 x 19.9 mm |
| Optical DVD-R/W drive | Optical DVD-R/W drive | No optical drive | No optical drive (Geforce 940MX available) |
| $439 USD ($489 USD with touch) | $489 USD | $739 USD | $749 USD |
The sleeker Ideapad 320S models also include a backlit keyboard with 802.11ac wireless support compared to the far less expensive baseline 320 models. The lighter design, however, comes at the cost of any integrated optical drives, but its extended features and higher resolution IPS displays should more than make up for the deficits. All four models are composed of ABS plastic while the 320S models have an additional brushed layer for a more metallic texture and look.
The budget Ideapad 320 is certainly visually unassuming as it lacks the aluminum build of the Ideapad 720S and the chrome-cut corners of the new Flex 5 series. Of course, the target audience in this price range is not necessarily purchasing for looks, and we can so far confirm that both its keyboard and trackpad are soft but quiet in feedback. We're hoping that the final retail models will have brighter glossy displays as this was one of our major complaints on the older Ideapad 310.
Note that the baseline 320 series has dropped the VGA port and one USB port from the 310 series, so it actually features fewer ports than the previous generation in favor of a slightly thinner (22.9 mm vs. 24 mm) chassis.
The Ideapad 320/320S models are all launching this June in the US for starting prices as stated above. A wide variety of light-tone colors are available including Blizzard White, Snow White, Coral Red, Denim Blue, Platinum Silver, Plum Purple, and Mineral Gray.