Lenovo IdeaPad K1 Tablet Review
The Apple iPad has taught companies several facts about tablets, but chief among them? It's really, really hard to break into the market.
For examples, look no further than the competitors that have tried to break into the tablet market — when changing course after seven weeks and selling your company's flagship tablet at fire sale-level prices is considered a success, it's understandable if most companies would be wary of attempting to eat away at the iPad's market share.
If nothing else, give Lenovo's IdeaPad K1 tablet credit for chutzpah — the tablet touts a price tag and specifications aimed at undercutting the iPad when it comes to cost and processing power. Can it find success where other competitors have failed? Read on to find out.
Case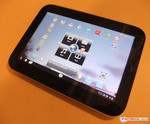 Unlike many of its budget-orientated competitors, the K1 tablet sports more on its chassis besides plastic. Our review unit featured aluminum siding and a white plastic backing, but other configurations include different colors and materials — at $519 USD, for instance, the K1 swaps out the plastic siding for black leather. At 13.3 mm thin, it's also within a hair's breadth of the iPad 1's 13 mm thickness.
Thanks to this thinness, the gently curved siding and the plastic backing, the tablet is also extremely easy to hold onto. In addition to Android 3.1's integrated softkeys, the K1 also features a physical "Home" key that doubles as a "Back" and "Menu" button, depending on both the orientation of the tablet and the direction of the swipe. We had some issues getting the button to properly detect our swipes, but over time, it became easier to use.
The K1's build quality did leave some room for improvement. At several points on the front display, the screen had minor amounts of flex. Beyond the plastic backing and screen's ability to easily pick up fingerprints, we also saw misalignments on one portion of the K1's aluminum frame — near the screen, the gaps between one side of the frame and another were large enough to catch a fingernail.
In addition, we're not fans of the decision to secure the tablet's microSD card slot with a secondary pushpin device. By pushing the included pin into the hole next to the microSD slot, the protective cover pops outward and allows you to install a new card.
The tiny slot also makes it difficult to retrieve the microSD card once it's installed — we had to use our fingers to fish out the card on multiple occasions, even after its lock was disengaged. Admittedly, these are all minor issues, but in a market filled with competitors, the smaller issues tend to stick out prominently.
Connectivity
As with most Android-based tablets, the K1 features no shortage of available ports.
Along with a micro-HDMI out port, the bottom of the tablet features a headphone jack and a proprietary connector for charging and data transfer. We would have preferred to have the headphone jack moved to another side of the tablet. Many of the apps we used lacked support for screen rotation, so in most situations, the headphone jack will be pointed straight towards the user — if the tablet is being held in your lap, for instance, the jack and headphone cable will be a likely nuisance.
On the device, though, ports are well distributed — there's enough space between each port to avoid cable clutter and keeping them all restricted to the lower sides of the K1 results in solidly streamlined aesthetics.
The choice to go with a proprietary charging port isn't among the tablet's best decisions, but the non-locking cable end is a nice addition. Whether you'll agree with this likely depends on your willingness to add another cable to your connection, but — as with Apple's MagSafe power connectors — the cable will detach if, for instance, it's tripped over, but won't bring the tablet with it.
When it comes to transferring data to and from the K1, though, our testing experience wasn't without its issues. Our primary work computer is an Apple MacBook Pro, but when we initially tried to connect it to the K1 with the included USB cable, nothing happened. As it turns out, devices running Android 3.0 or later require a separate application if you want to transfer files on OS X-based computers. Considering that Windows computers don't require additional software for K1 for the same functionality, it seems like an unnecessary hassle.
Communication
The K1 touts the standard array of networking standards, including Bluetooth 2.1 and support for 802.11 b/g/n Wi-Fi. In addition, Lenovo said that tablets produced after August will have support for 3G connectivity. Standard GPS support is also included, along with Google Maps for turn-by-turn navigation. In addition, we had no unexpected Wi-Fi problems from performance dropouts or connection range issues.
Supplies
On packaging, Lenovo offers the basics with the K1, including a USB cable, power cable and documentation in the tablet's box. With its numbered packaging and sleek presentation — the tablet is the first thing you'll see when opening the box — Lenovo definitely provides a bit of extra visual pizazz for new owners. In addition, available accessories include screen protectors and a keyboard deck, which are free if your K1 is purchased from Lenovo's website.
Warranty
Lenovo offers a base warranty of 1 year, which includes access to phone support and full coverage on assorted repair issues. For an additional $79.99 USD, users can also add a second year of coverage.
Input Devices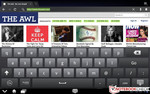 Keyboard
In addition to the standard Android keyboard, Lenovo bundled a secondary on-screen keyboard that both modifies and moves around several different keys. For the most part, though, the keyboard operates solidly, regardless of your preferred configuration.
Of course, the extra screen real estate makes it easier to work and type. With the extra space, it's much harder to accidentally hit a second key when you intended to press another one. And as always, Android's voice recognition is among the best on mobile computing platforms — mistranslations were virtually nonexistent when we said multiple sentences of varying lengths into the tablet. This worked the same regardless of the amount of ambient noise or how fast we spoke.
Sensors
The performance of the K1's motion and ambient light sensors isn't as impressive, though. When we shifted the tablet's orientation, it took nearly two seconds for the K1 to recognize the rotation. By comparison, the Apple iPad 1 consistently took less than a second to detect orientation changes. Likewise, the K1's brightness sensor immediately jumps from one brightness level to another when automatic brightness is enabled.
Compared to the brightness settings on most new laptops — where brightness levels are gradually blended into one another — the effect is especially jarring on the K1. When playing games on the K1, we had to disable the ambient light sensor and move to a constant backlight level in order to avoid being distracted by the sudden shifts in display brightness.
Camera
The K1 features the expected front-facing and rear cameras with resolutions of 2 megapixels and 5 megapixels, respectively. The former is placed in the same position as where you'd find a webcam on a laptop, which makes it well suited for videoconferencing applications. With the relatively midrange performance on each camera, though, it'll likely be used in non-intensive applications. As the photos below show, color reproduction and brightness levels are average at best.
Display
Thanks to the K1's 10.1-inch IPS display and 1280 x 800 pixel resolution, the screen offers strong performance in most indoor situations. The glossy display also adds some nice visual sharpness to the K1, though it also attracts lots of fingerprints. Comparatively, we found no major issues with the screen — the high resolution display features solid visual performance and brightness levels which are virtually identical to our Apple iPad.
Performance
Like most higher-end Android tablets, the K1 sports impressive internal specifications, including 1GB of DDR2 600Mhz memory and a 1 Ghz NVIDIA Tegra 2 processor. In practice, the tablet provides relatively consistent performance benchmarking results. The K1's Linpack score of 62.124 MFLOPS was the highest among Android-based tablets, beating out the similarly built Samsung Galaxy Tab v10.1.
In Browsermark, the K1's score of 89873 fell slightly behind tablets such as the Motorola Xoom and LG Optimus V900 — both tablets' scores were more than 90,000. In Google V8, Quadrant, Smartbench and our other benchmark test, the K1's scores largely fell in line with other Tegra 2-based tablets. Outside of the issues we mentioned above with the K1's sensors, the tablet's performance was generally speedy.
Android
The K1 relies on Android 3.1, but Lenovo has included additional modifications that largely improve the user experience.
Most prominently, the "Layers" button features integrated task killing functionality, removing the need for a separate third-party application. Additionally, the "App Wheel" and "Lenovo Launcher" apps provide easier integrated access to mail, reading and multimedia applications.
On the flip side, though, we're usually not fans of proprietary applications from manufacturers and unfortunately, the K1 also has them in spades. For instance, the Social Touch application aggregates information from your calendar, inbox and social networks such as Facebook and Twitter into a single stream — we didn't find much use from Social Touch, though this definitely depends on your personal social media consumption habits.
We also didn't find much to dig into on Lenovo's App Shop, either. As with similar app stores from Toshiba and Amazon, App Shop is a separately curated market for Android apps. The application also includes AppVerse — a social media section of App Shop — that allows you to get app recommendations from other users.
Considering the mixed results from Android Market on Honeycomb app support, there's certainly a space for better application curation on Android. And unlike other third-party app stores, Lenovo's does include major apps such as Angry Birds along with apps from sites such as Twitter and Facebook.
At the same time, the store is plagued by limited app selection — the app store's games section only features 32 different apps, for instance.
We are fans of Lenovo's decision to pre-install a suite of popular apps, though. These apps include Zinio, eBuddy and Amazon Kindle. There is a good blend of largely non-bloatware apps aimed towards general users and it's incredibly easy to uninstall the ones you don't want.
And of course, Android 3.1 isn't without its general growing pains. Throughout our time testing the K1, apps occasionally crashed at random intervals and required a reboot in order to work properly. At times, in-app performance also tended to be inconsistent. In one case, we attempted to open a 305 page PDF on PDF To Go and Adobe Reader — after several minutes, the PDF still had large amounts of visual artifacts in PDF To Go, while nothing could be seen in Adobe Reader.
Gaming Verdict
With the split between games that were built for Android tablets and games which had to scale in order to work on Android tablets, gaming on the K1 tends to be a mixed bag. Some non-HD apps — such as Angry Birds Seasons — scales surprisingly well onto the K1, though mild artifacts are noticeable. However, games such as Backbreaker fail to load properly at all. Of course, games built for tablet resolutions fare much better. Titles such as Need For Speed HD and Dungeon Defenders HD look and play smoothly on the K1.
Similarly, it wasn't especially easy to find tablet-friendly games to test the K1 with. In fact, we only managed to find Dungeon Defenders HD through NVIDIA's Tegra Zone application. To be fair, Android Market's growing pains on tablets have little to do with the K1, but as with any relatively young platform, some version-based usability problems are to be expected.
Emissions
Noise Emissions
Since the K1 has no moving parts, we had no issues with system noise from the tablet.
Temperature
Despite the K1's largely plastic exterior, it was still a surprisingly efficient heat conductor. As with our laptop tests, we first took the temperature of the tablet's front and backside.
After running the tablet under load for an hour — in this case, we ran StabilityTest's simultaneous CPU and GPU stress test at low details — we took the temperature of the K1 for a second time. As the chart shows, most of the heat gains are concentrated near the bottom of the tablet. The K1 never became overly hot, although it could likely become uncomfortable if kept under load for an extended period of time.
(±)
The average temperature for the upper side under maximal load is 33.3 °C / 92 F, compared to the average of 30.3 °C / 87 F for the devices in the class Tablet.
(+)
The maximum temperature on the upper side is 36 °C / 97 F, compared to the average of 34.2 °C / 94 F, ranging from 21.3 to 53.2 °C for the class Tablet.
(+)
The bottom heats up to a maximum of 34.8 °C / 95 F, compared to the average of 33.6 °C / 92 F
(+)
In idle usage, the average temperature for the upper side is 29.1 °C / 84 F, compared to the device average of 30.3 °C / 87 F.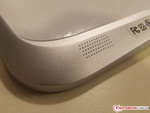 Speakers
The backside of the K1 touts two speaker ports, but neither is worth the attention of most users. Whether playing dance music such as LCD Soundsystem's "Jump Into The Fire" or rock songs such as tUnE-YarDs' "Gangsta" through the speakers, highs were overly prominent in the mix, while bass was virtually nonexistent. The speakers have enough volume to serve as casual listening speakers, but general audiophiles will want to stick with headphones for most listening situations.
Battery Life
The K1's two-cell battery touts a potential lifespan of up to 10 hours, but throughout our testing, we managed to get varying amounts of performance from the tablet.
We first tested out the maximum capacity of the K1 by idling the tablet, setting the brightness to the minimum setting and disabling all wireless modules. During this test, the battery managed to last for 12 hours and 11 minutes.
Afterwards, we looped locally saved videos on the K1 at maximum brightness and wireless settings off. During this test, the tablet's battery died after 6 hours and 40 minutes.
In addition, we tested the battery through standard web browsing usage and while it was under load. In the standard web-browsing scenario, we navigated to assorted web pages featuring video and text elements — the battery lasted for 5 hours and 50 minutes. In the load test, we ran the Android app "StabilityTest" and looped its simultaneous CPU and CPU rendering test ant low details. Here, the battery's charge was drained away much faster, lasting for only 5 hours and 31 minutes.
Verdict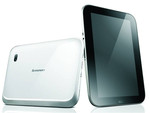 Ultimately, the IdeaPad K1 provides a strong case for the prospective tablet owner. The K1's solid specifications and affordable price tag safely put the tablet into the upper tier of current Android tablets. Thanks to Gingerbread's growing pains, the K1 has some distance to go before taking on tablets such as the iPad, but budget-conscious consumers eager to dip into tablet computing will find much to like from the IdeaPad.