Leaks suggest Kaby Lake quad-core and GTX 1050 notebooks may ship before new year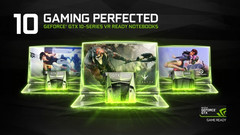 Laptops with Kaby Lake quad-core CPUs and Nvidia's GTX 1050 GPUs may start shipping as early as December 29th.
Online retailer Execute has leaked some limited specs and release dates for notebooks premiering Kaby Lake HQ-series CPUs and Nvidia's GTX 1050. The estimated time of arrival for the product is December 29, according to the website. Previous rumors suggested both Kaby Lake quad-core and Nvidia's GTX would be showcased and released at CES 2017 in January. Thus, the arrival date of the 29th comes as a rather pleasant surprise.
The leaked model, named the Asus FX753VD, may be one of the first notebooks to ship with the previously unseen i5-7300HQ CPU and the GTX 1050 GPU. Other specs include 8 GB RAM, 256 GB of SATA SSD storage, and a 17-inch screen. The listed price on Execute is EUR 835.28, or approximately 873 USD excluding VAT, suggesting that the GTX 1050 will turn out to be a very popular mainstream GPU in 2017.