Just arrived: Alienware m17 in review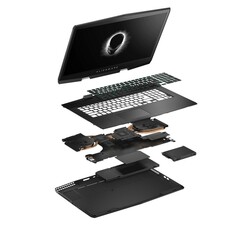 Dell's full-frontal refresh of its popular Alienware 17 series is significantly leaner and more portable. It does, however, sacrifice some features along the way that Alienware purists may miss. We list the major changes here based on our hands-on review of the newer model.
The 17.3-inch Alienware m17 is a spin-off of the Alienware 17 with the looks and design of the 15.6-inch Alienware m15. The end result is an "Alienware 17 Lite" as the m17 has omitted some hardware features in order to offer such a small form factor.
Our table below summarizes the main differences between the new Alienware m17 and last year's Alienware 17 R5. In particular, the m17 drops several features including a third storage bay, column of macro keys, per-key RGB lighting, subwoofer, and second USB Type-C port. Even the battery is smaller by 10 percent or more depending on the configuration.
Two other major changes are on the keyboard and inner skeleton. The m17 uses a more standard chiclet layout as opposed to the beleved layout of the original and it lacks the inner skeleton reinforcement as shown by our comparison screenshots below. Gamers who may not like the keyboards of most Ultrabooks may find the chiclet layout to be a downgrade.
Expect our full review on the Alienware m17 in the coming week. In the meantime, catch a preview of our results below.
| | Alienware m17 | Alienware 17 |
| --- | --- | --- |
| Touchpad | 10.5 x 6.5 cm, integrated mouse keys, no backlight | 10 x 5.5 cm, individual mouse keys, backlit |
| Tobii | No | Yes |
| Storage Bays | 2x M.2 2280 or 2x M.2 2280 + 1x 2.5-inch SATA III | 2x M.2 2280 + 1x 2.5-inch SATA III |
| Speakers | 2.0 (Stereo) | 2.1 (Stereo + subwoofer) |
| Keyboard | Chiclet, quad-zone RGB backlighting, no Macro keys | Beveled, per-key RGB backlighting, Macro keys |
| Ports | 3x USB Type-A, mDP 1.3, HDMI 2.0, Graphics Amplifier, Gigabit RJ-45, 3.5 mm combo audio, Thunderbolt 3, Noble Lock | 2x USB Type-A, mDP 1.2, HDMI 2.0, Graphics Amplifier, Gigabit RJ-45, 2x 3.5 mm audio, Thunderbolt 3, USB Type-C, Noble Lock |
| Battery | 60 Wh or 90 Wh | 99 Wh |
| Dimensions | 23 x 410 x 292.5 | 30 x 424 x 332 |
| Weight | 2.63 kg | 4.42 kg |
Working For Notebookcheck
Are you a techie who knows how to write? Then join our Team! Especially English native speakers welcome!
Currently wanted:
News and Editorial Editor - Details here

Size Comparison
Alienware 17 R5
Intel Core i7-8750H, Intel Core i7-8750H:
Ø922 (893.28-993)
PCMark 10
Digital Content Creation
Alienware m17 P37E


GeForce RTX 2080 Max-Q, 8950HK, SK Hynix PC401 512GB M.2 (HFS512GD9TNG)

Alienware 17 R5


GeForce GTX 1070 (Laptop), 8750H, SK hynix PC401 HFS256GD9TNG

Productivity
Alienware m17 P37E


GeForce RTX 2080 Max-Q, 8950HK, SK Hynix PC401 512GB M.2 (HFS512GD9TNG)

Alienware 17 R5


GeForce GTX 1070 (Laptop), 8750H, SK hynix PC401 HFS256GD9TNG

Essentials
Alienware m17 P37E


GeForce RTX 2080 Max-Q, 8950HK, SK Hynix PC401 512GB M.2 (HFS512GD9TNG)

Alienware 17 R5


GeForce GTX 1070 (Laptop), 8750H, SK hynix PC401 HFS256GD9TNG

Score
Alienware m17 P37E


GeForce RTX 2080 Max-Q, 8950HK, SK Hynix PC401 512GB M.2 (HFS512GD9TNG)

Alienware 17 R5


GeForce GTX 1070 (Laptop), 8750H, SK hynix PC401 HFS256GD9TNG
PCMark 8
Work Score Accelerated v2
Alienware m17 P37E


GeForce RTX 2080 Max-Q, 8950HK, SK Hynix PC401 512GB M.2 (HFS512GD9TNG)

Home Score Accelerated v2
Alienware m17 P37E


GeForce RTX 2080 Max-Q, 8950HK, SK Hynix PC401 512GB M.2 (HFS512GD9TNG)
Alienware m17 P37E


AU Optronics B173ZAN01.0, IPS, 3840x2160

Alienware 17 R5


JYWWF_B173QTN (AUO1496), TN, 2560x1440

Response Times
Response Time Grey 50% / Grey 80% *
Response Time Black / White *
PWM Frequency
Screen
Brightness middle

357.9

398

Brightness

347

367

Brightness Distribution

94

86

Black Level *

0.33

0.51

Contrast

1085

780

Colorchecker DeltaE2000 *

6.57

5.45

Colorchecker DeltaE2000 max. *

9.86

10.36

Colorchecker DeltaE2000 calibrated *

6.74

2.56

Greyscale DeltaE2000 *

4.3

5.4

Gamma

2.6 85%

2.4 92%

CCT

6403 102%

7453 87%

Color Space (Percent of AdobeRGB 1998)

88.4

56

Color Space (Percent of sRGB)

100

86

Total Average (Program / Settings)
* ... smaller is better
Alienware m17 P37E


8950HK, GeForce RTX 2080 Max-Q, 90 Wh

Alienware 17 R5


8750H, GeForce GTX 1070 (Laptop), 99 Wh

Battery Runtime
Reader / Idle

543

268

WiFi v1.3

296

218

Load

49

64
Alienware m17 P37E


8950HK, GeForce RTX 2080 Max-Q

Alienware 17 R5


8750H, GeForce GTX 1070 (Laptop)

Power Consumption
Idle Minimum *

21.2

28

Idle Average *

29.6

32

Idle Maximum *

34

37

Load Average *

130.9

112

Load Maximum *

219.7

231

Witcher 3 ultra *

177.5

192
* ... smaller is better