Core 2 Extreme Notebook Processor (CPU)

The Intel Core 2 Extreme mobile processor belongs, like the Intel Core 2 Duo, to the Intel Core family and names the fastest models. The Intel Core 2 Extreme are multi-core processors. While most of the Core 2 Extreme series are dual-core CPUs, there is one mobile quad-core processor, the QX9300, available since the third quarter of 2008. Each of the cores (up to 4 currently) is capable of executing 64 bit code and the architecture is based on the old Pentium M design.
The mobile Intel Core 2 Extreme processor series was designed for extreme competitive gaming and HD multimedia on the go. In principal the Core 2 Extreme is an enhancement of the Core 2 Duo: The bus ratio locks (overspeed protection) have been removed. So, the user can fine tune the clock rates according to his needs.
Note - You should use the possibility to drive your processor with overspeed with care. Intel also does not exclude consequences on the system stability, data integrity, and lifetime of processor and system components.
"Warning: Altering clock frequency and/or voltage may: (i) reduce system stability and useful life of the system, processor and other system components; (ii) cause the processor and other system components to fail; (iii) cause reductions in system performance; (iv) cause additional heat or other damage; and (v) affect system data integrity. Intel has not tested, and does not warranty, the operation of the processor beyond its specifications. Intel has not tested, and does not warranty, the operation of other system components beyond their industry standard specifications. Intel assumes no responsibility that the processor and other system components, including if used with altered clock frequencies and/or voltages, will be fit for any particular purpose." (Source: Intel)
Key Features
No bus ratio locks
Intel Virtualization Technology
Enhanced Intel SpeedStep Technology
Intel Execute Disable Bit Technology
Intel 64 architecture
The various Intel Core 2 Extreme processors are validated for different platforms:
X9100: GL960, PM45
X9000: GL960, GM965, PM965
X7900, X7800: PM965
Performance
The performance of the Core 2 Extreme processors is about comparable to equally clocked Core 2 Duo processors. Thereby, the Penryn update improved the performance of the processors while the TDP (thermal dissipation power) stayed the same. Penryn processors are produced in 45 nm technology (the predecessors in 65nm) and have a bigger Level 2 Cache. Furthermore, the Penryn processors got a faster division unit and 47 new SSE instructions (called SSE4). Due to the new production process Intel could increase the clock rate while the energy demand stayed the same. Further information is available in our Intel Core 2 Duo 'Penryn' CPU comparision test and in our Mobile Processors - Benchmark List.
We do unfortunately not have own performance measurements of the new quad-core processor, the QX9300, yet. Compared to the previous top mobile Core 2 Extreme processor model, the X9100, it has four instead of only two cores, 12 MB cache instead of 6 MB, but a lower clock frequency of only 2.53 GHz instead of 3.06 GHz. The front side bus works equally fast in both processors. According to Intel the performance of the QX9300 is up to 50 percent faster when encoding or editing videos than the X9100. Thereby, the performance of encoding videos was measured with TMPGEncoder* Xpress* 4.4, and of editing videos with Adobe Premiere Pro* CS3. Details are available at Intel's web site.
So far some notebooks were also equipped with Core 2 Extreme Desktop processors. E.g., the QX6850 was used in the Nexoc Odin E805, the Cyber System Q17, and the Schenker mySN D901C (Clevo D901C) (only available in German) notebook, which we reviewed. If you assume that the QX9300 is about 50% faster (see above) than the X9100, you can expect that it is about as powerful than than the QX6850. Anyway, the mobile processor has, with 45 Watt, a much lower TDP than the QX6850 (TDP: 130 Watt). So, it is to be expected that notebooks with mobile QX9300 perform better in the noise and heat emissions than notebooks with desktop Core 2 Extreme CPU. The performance advantage on a higher clocked dual core CPU is only used, if the software (like encoding software) can make use of the additional 2 cores. Current games do not profit of the additional cores as much as from more clock speed. Therefore, the X9100 dual core is faster in many games than the QX9300 quad-core (because of the clock speed advantage of the X9100).
Top 10 Laptops
Multimedia, Budget Multimedia, Gaming, Budget Gaming, Lightweight Gaming, Business, Budget Office, Workstation, Subnotebooks, Ultrabooks, Chromebooks
under 300 USD/Euros, under 500 USD/Euros, 1,000 USD/Euros, for University Students, Best Displays
Top 10 Smartphones
Smartphones, Phablets, ≤6-inch, Camera Smartphones
Specifications
At the time of writing there are Core 2 Extreme processors, which are produced in 65 nm technology and others, which are produced in the new 45 nm technology, available. The two 65 nm processors, the X7800 and the X7900, have both 4 MB cache and a 800 MHz front side bus (FSB).
The X9000 (6 MB cache, 800 MHz FSB), the X9100 (6MB cache, 1066 MHz), and the QX9300 (12 MB cache, 1066 FSB) are produced in 45 nm technology.
All mobile Core 2 Extreme CPUs feature:
Execute Disable Bit
Intel's Execute Disable Bit functionality can help prevent certain classes of malicious buffer overflow attacks when combined with a supporting operating system.
Virtualization Technology (VT)
The Intel Virtualization technology allows hardware-assisted consolidation of multiple environments into a single computer. I.e., the use of many operating systems in parallel and isolated from each other, e.g., Xen or VMWare).
64 Bit support
Support of 64 Bit words by the CPU. This means that the CPU can process 64 bit data. The Intel Core 2 Duo supports the AMD64 expansion (licensed), which allows to run 32 bit and 64 bit programs on this CPU (if you use a operating system with 64 bit support).
Enhanced SpeedStep Technology
Clock frequency and operating voltage can be dynamically adapted per core. If the load is low, the processor is driven by a lower clock frequency and core voltage and energy is saved this way. Due to an automatic adaption you'll hardly recognize a decrease of performance. Furthermore, the parts of the CPU can be turned off to save energy if they are not needed.
Models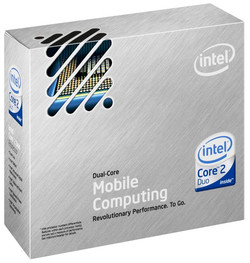 Processor numbers for the Intel Core brands are categorized in 4-digit numerical sequences with an alphabetical prefix. A leading 'Q' is for quad-core. The letter immediately followed by the number is the processor category, which is based on the energy demand and the performance category to which a processor belong:
QX...Desktop or mobile quad-core extreme performance processors
X...Desktop or mobile dual-core extreme performance processors
Q...Desktop quad-core high performance processors
E...Desktop energy efficient dual-core processors with TDP ≥ 55W
T...Mobile highly energy efficient processors with TDP 30-39W
P...Mobile CPU with max. TDP 25W
L...Mobile highly energy efficient with TDP 12-19W
U...Mobile ultra high energy efficient with TDP ≤ 11.9W
The following number is based on a variety of
Cache
Front side bus
Clock speed
Power
New Instructions
Other Intel technologies.
Thereby a higher number hints on more features, but this can also mean that a processor features more of an aspect, but less of another.
A detailed list of all processors can be found in the overview of mobile processors.
A categorization of the processors in terms of performance is available in our Mobile Processors - Benchmark List.