Rumor | Intel Coffee Lake-H Mobility CPU lineup specs get leaked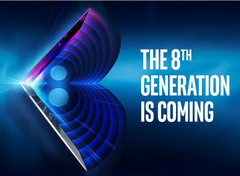 The top of the line i9-8950HK and the Xeon E-2186M feature six cores/twelve threads that can reach boost clocks of 4.8 GHz. The mid-range i7-8850H and Xeon E-2176M feature the same core/thread count, but can boost only to 4.3 - 4.4 GHz. Finally, the entry-level i5-8400H and i5-8300H come with 4 core and 8 threads that can go up to 4.2 - 4.0 GHz.
Unfortunately, no Intel Coffee Lake-H notebooks were spotted at CES this year, even though Q2 2018 is not that far away, but, curiously enough, the Chinese site ChipHell has just leaked the specs of several Coffee Lake Mobility CPUs that are supposed to get launched in Q2 2018. The leaker is previously known for presenting a few fake specs, so it may be prudent to take all this new information with a pinch of salt. The leak presents specs for a few Core CPUs and even a couple of mobile workstation Xeon models.
There is a high-end 6-core / 12-thread Core i9-8950HK CPU with unlocked clocks set at 2.90 GHz and boost clocks going as high as 4.3 GHz (multi core) / 4.8 GHz (single core). It comes with 12 MB of L3 cache memory, while the cTDP oscillates between 45-65W, depending on boost and overclock settings. The leak also presents another CPU with identical specs (probably not unlocked), but bearing the Xeon brand and the model code E-2186M.
The mid-range segment is represented by a Xeon model and a Core i7 one, both still 6-core / 12-thread CPUs. The Xeon E-2176M is clocked at 2.70 GHz and can go up to 4.1 GHz (multi) / 4.4 Ghz (single), while the i7-8850H is clocked at 2.6 GHz and can reach 4.0 GHz (multi) / 4.3 GHz (single). Both CPUs feature 9 MB of L3 cache memory and a 45 W TDP.
Additionally, there are two entry-level models with 4-cores / 8-threads, 8 MB L3 cache and 45 W TDP. The i5-8400H is clocked at 2.5 GHz and can reach 4.1 GHz (multi) / 4.2 GHz (single), while the i5-8300H runs at 2.3 GHz and can go up to 3.9 GHz (multi) / 4.0 GHz (single).
All the Coffee Lake-H mobile CPUs are expected to integrate the new UHD 630 iGPU clocked at 1.1 GHz. The leak does not provide pricing information.