Images of Sony's next "Compact" flagship leak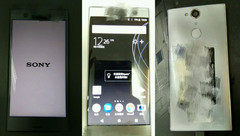 Images of a new Sony Compact-series smartphone have leaked, with speculation that the device may be an "XZ Compact" or "XZ1 Compact". Far from following the trends of today's flagship design, Sony make it clear that they are sticking to their own design language.
When the original Galaxy Note released in October of 2011, it's 5.3-inch display and 5.78 x 3.27 x 0.38-inch dimensions made it enormous for the time. Given it's unusually large form-factor, the Galaxy Note helped spark the term "Phablet" — a portmanteau of phone and tablet. Over the years, the average smartphone has grown in size, and today, phones with a 5.3-inch screen are considered average or even small due to decreased bezel sizes. Smartphones with displays under 5 inches are nearly extinct with one exception: Sony's "Compact" line of smartphones. Starting with the Z1 Compact, the smartphone line has earned a cult following among fans of phones that can be comfortably used with a single hand, and the tradition is set to continue based on recently leaked images of a new Compact-series phone called the G8341, which has yet to receive an official Xperia moniker.
The G8341 pictures reveal some interesting points of discussion for fans of the series. Firstly and most obviously, Sony has not let the small-bezel direction of today's flagship phones influence their boxy aesthetic one bit. The bezels are as large as ever, but one has to wonder why Sony would not commit to reducing the size of the phone by reducing the bezels — especially given that the phone's main selling point is its compact size. Secondly, the fingerprint sensor has been moved to the back, which is arguably a much less convenient location than the side power button of the Z5 and X-series Xperias. Overall, it seems like a strange direction for Sony given the declining sales of their smartphone division of the past few years: The bezels waste space that could be used for either a larger screen or for reducing the size of the phone, which will surely be a turn-off for many consumers. The fingerprint scanner moving to the back from the side will be considered a downgrade by many, and overall, the design sensibilities of today's flagships (dual cameras, in-glass fingerprint reader, small bezels) are notably absent. One has to wonder whether Sony has some unseen tricks up their sleeves, or if they are just stubbornly committed to a certain direction.
More information on the G8341 should be available at Sony's IFA event at the end of this month.