Huawei MediaPad M3 Lite 10 hits FCC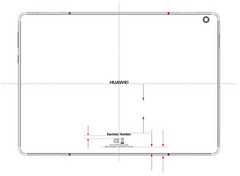 Less than a month after surfacing online, this upcoming 10-inch Android tablet gets certified by the Federal Communications Commission. The prices in the US should start below $400 USD, but its launch still has to be confirmed.
The first rumors concerning the MediaPad M3 Lite 10 tablet have been around for just a few weeks, but its launch appears to be quite close. This 10.1-inch tablet with Harman Kardon audio has just surfaced on FCC, so the US market should get ready for this upcoming Android Nougat-powered slate by Huawei.
Most details have been revealed by the documents that surfaced on FCC - a Qualcomm Snapdragon 625 processor, 3 GB RAM, 32 GB internal storage and microSD support for increased space, 10.1-inch full HD display, 8 MP front and back cameras, all powered by a 6,660 mAh battery. Two variants are expected - one with WiFi connectivity only, and another with 4G LTE, both featuring four HiFi speakers.
According to Tablet News, Huawei MediaPad M3 Lite 10 is expected to retail for €329 EUR and €379 EUR, depending on the version chosen. In the US, that would be around $359 USD and $414 USD, but we should wait for the official launch to know for sure.