How Nintendo's approach to Switch OLED is smarter than what Sony did with the PS Vita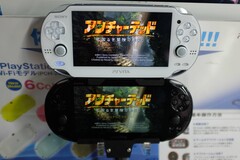 Views, thoughts, and opinions expressed in the text belong solely to the author.
Working For Notebookcheck
Are you a techie who knows how to write? Then join our Team! English native speakers welcome!
News Writer - Details here

After the moderately successful PSP, Sony launched the PS Vita in late 2011 with an OLED touchscreen as a key selling point to the handheld. The manufacturer promised stronger colors and deeper contrast from its 5-inch 960 × 544 resolution OLED display when compared to the typical LCD solution.
Two years later, however, Sony would launch a revised PS Vita model that dropped the OLED panel in favor of standard LCD. Sony had claimed at the time that its LCD panels could reach the image quality of OLED, but the downgrade was noticeable nonetheless by reviewers.
In retrospect, Sony likely discovered that OLED couldn't draw in as many new consumers as a cheaper price point. Thus, the manufacturer more likely ditched OLED to lower costs and increase market appeal even if it had meant a decrease in image quality.
Interestingly, Nintendo seems to be approaching OLED in the opposite direction as Sony. Instead of launching the Switch with OLED first and then dropping it for LCD several years later, the Switch would launch with LCD first and then OLED at a later date. Perhaps most importantly, Nintendo will continue to market the cheaper Switch Lite alongside the pricier Switch OLED to give users a choice of display technology instead of forcing new users onto just one option. We wouldn't call it the perfect mid-generation console update, but it definitely makes more sense than the mid-generation downgrade that Sony did with its handheld.
The new Switch OLED probably isn't what most hardcore fans were expecting especially since it carries no internal performance upgrades. Even so, it'll almost certainly still sell like hot cakes once it becomes available this October.
Top 10 Laptops
Multimedia, Budget Multimedia, Gaming, Budget Gaming, Lightweight Gaming, Business, Budget Office, Workstation, Subnotebooks, Ultrabooks, Chromebooks
under 300 USD/Euros, under 500 USD/Euros, 1,000 USD/Euros, for University Students, Best Displays
Top 10 Smartphones
Smartphones, Phablets, ≤6-inch, Camera Smartphones
Views, thoughts, and opinions expressed in the text belong solely to the author.