Garmin Fenix 6X Pro Solar Smartwatch Review – sport watch and offline satnav in one
A Garmin watch is no ordinary smartwatch. It is a fitness watch highly appreciated by athletes.
In addition to recording and analyzing training and exercise sessions the Swiss GPS specialist also added offline navigation to some of its watches.
The extensive map material based on OpenStreetmap data is only available on the Pro models of the Fenix 6, which is available in three different sizes: small (42 mm), medium (47 mm), and large (51 mm). Our review unit was Garmin's current top model, the Fenix 6X Pro Solar. The Solar model includes a transparent solar-charging lens that will charge the watch outdoors in order to improve battery life.
Garmin Fenix 6X Pro Solar
Display
1.40 inch, 280 x 280 pixel 283 PPI, no, transflective MIP display, glossy: yes
Storage
32 GB, 17 GB free
Connections
Audio Connections: ⊖, NFC, Sensors: GPS, GLONASS, GALILEO, optical heart rate sensor, barometer, compass, gyroscope, accelerometer, thermometer, pulse oximeter, ANT+, WLAN
Networking
Bluetooth yes, GPS
Size
height x width x depth (in mm): 14.9 x 51 x 51 ( = 0.59 x 2.01 x 2.01 in)
Additional features
Speakers: ⊖, Keyboard: 4 Buttons, Keyboard Light: yes, Fenix 6X Pro Solar, USB charging and sync cable, documentation, Polar Flow, 12 Months Warranty, Waterproof up to 10 ATM; compatibility: iPhone, Android, fanless, waterproof
Weight
54 g ( = 1.9 oz / 0.12 pounds) ( = 0 oz / 0 pounds)
Note: The manufacturer may use components from different suppliers including display panels, drives or memory sticks with similar specifications.
Case and Connectivity
The plastic case is covered by a metal plate at the back and framed by a DLC-coated titan bezel (DLC = diamond-like carbon). The bezel is fixed and irrelevant for operation. The solar-charging lens is installed between the display and a layer of DX-treated Corning Gorilla Glass.
The Fenix 6X Pro Solar comes with 32 GB of storage for additional apps and widgets that can be downloaded from Garmin's IQ store, along with maps, and music. Given that the speaker can only be used for system sounds, such as the alarm clock or the metronome, listening to music will require you to connect Bluetooth headphones. Sound effects are optionally supported by vibration if so desired. Some Fenix models come with just 64 MB of storage space, which can be filled with apps, maps and golf course data - a special feature of Garmin watches - but no music.
Incoming phone calls can be rejected with a message or answered. The latter will require you to grab your smartphone, though.
At the Fenix 6X Pro's core are its many sensors, among others a pulse oximeter for measuring blood oxygen saturation. It also supports three different location services: GPS, GLONASS, and Galileo.
In addition to technical documentation, a short 50 cm / 19.7 inch cable for charging and data transfers is included as well.
Display and Brightness
Garmin's Fenix series lacks a touchscreen and features a transflective (semi-transparent) memory-in-pixel display instead, which turned out to be significantly dimmer than the OLED displays on other smartwatches. On the plus side it is very energy efficient and can be easily read in both direct sunlight as well as low-light situations thanks to a backlight.
The Fenix also lacks an ambient light sensor. However, this turned out to be less of a problem than expected. While LCD and OLED displays will require major brightness adjustments when going outside/inside, an MIP display only requires a backlight in very dark situations and will thus work great with a single preconfigured brightness level.
Setup and Handling
Once charged via the connector at the back the watch can be setup without a smartphone. It will only ask for some personal data, which will remain on the watch given that a smartphone or computer is required to setup Wi-Fi. However, we would suggest pairing it with a smartphone. Once paired and connected, Garmin's Connect app, which requires a user account, allows for comfortable configuration as well as exercise analysis and visualization.
The watch supports apps, widgets and a control menu similar to a smartphone's quick panel. A number of widgets are preloaded by default, among others health statistics, exercise overview, and notifications. Others can be downloaded from Garmin's IQ store.
The Fenix 6 is operated via six sturdy buttons, which can be beneficial while working out. Start, stop, long-press for launching the music player, another press to skip the current song in case your headset controls are unavailable. All that can be easily done without looking at the watch, and even with the watch hidden underneath a sleeve or gloves.
However, only a few controls are available at the touch of two or three buttons. Others, such as adjusting display brightness, require a staggering 31 clicks in addition to the adjustment itself, plus a final long press in order to return. Once you get familiar with the menu you will still require at least 14 clicks of three different buttons.
Up to seven settings can be accessed via hotkeys such as a long press of a button or a combination of buttons. Among others these include brightness, which by the way did not show up in the control's menu during the entire review period. As plentiful as the Fenix 6's features are, they are complicated to use. Nevertheless, we highly recommend going down the 27-clicks-long road to assign your personal hotkeys.
Software
Garmin's smartphone app Garmin Connect offers different interfaces and features depending on the connected smartwatch. For example, when connecting to the Fenix 6X Pro Touch it displays options for playing golf, the pulse oximeter, or performance-based anaerobe thresholds that are unavailable with many other Garmin wearables.
The optional Garmin Connect IQ app is required for downloading additional watch faces, apps, and widgets. Garmin was one of the first manufacturers to not only support Deezer and Spotify but also Amazon Music. All three require an account and can be used offline after music has been downloaded over a Wi-Fi connection.
Uploading your own music onto your watch requires the Garmin Express application that is available for Windows and macOS.
Training
Most wearables will most likely not support skydiving and golf as activities, yet both can be found on Garmin's smartwatch. The Fenix 6 Pro comes with 41,000 world-wide golf course maps preloaded onto the watch by default. In addition, it supports OpenStreetmap maps including points of interest.
One of the best features is roundtrip routing. After setting a starting point, most likely your current position, a direction, and a distance the watch will automatically calculate different routes and will provide you with directions during your activity. As great as that feature is, it is actually arduous to use. It takes an eternity to setup and is very finicky to boot – press back one too many times and you will have to start from scratch. In theory, you can also plan and adjust your route manually. Good luck doing that with the aforementioned buttons, though.
Nevertheless, this feature was one of our favorite ones because you can also use the smartphone app to plan your route. While it turned out to be somewhat finicky and required restarting from scratch because adjusting or deleting a waypoint simply failed to work it was much more comfortable nevertheless.
Once set up, you can develop a pacing strategy called PacePro which includes altitude. Using the app, you can then send both your route and your PacePro pacing strategy to the watch and include the PacePro information in the highly customizable training display watch face. In addition to lag or lead for your route it will also show current as well as suggested pace for your current section.
In our test, we were not particularly satisfied with the splits determined based on altitude differences. However, the planning tool itself and the simplicity of use were excellent. It can be fine-tuned even further than we were able to during our test period.
Exercise statistics are saved onto the watch itself, and as expected of Garmin smartwatches they are quite extensive:
The app allows for a nice visualization of your exercise analysis, as can be seen in the following screenshots.

As soon as enough exercise data has been collected it will be supplemented with additional statistics, such as exercise effects or cardiovascular fitness (VO2 max). These are then included in your long-term exercise schedule and plan. Once transferred onto the watch they will automatically pop up on their respective due days.

Battery and Battery Life
While Garmin remains suspiciously quiet regarding battery specs, the company does specify battery life for various use cases, among others:
Up to 21 days in smartwatch mode with activated fitness tracker and heart-rate monitor.
Up to 60 hours with active GPS.
Up to 15 hours with active GPS and music streaming.
This list illustrates the massively detrimental effect GPS and music streaming have on overall battery life, which is why it is impossible to estimate and specify battery life for mixed usage scenarios. For the sake of comparability, we tested other smartwatches, such as the Samsung Galaxy Watch Active2 or the Apple Watch Series 5, with a one-hour-long outdoor exercise session while listening to music. With the Fenix 6 Pro, battery life dropped from 16 to 10% in this test.
If exposed to around 50,000 Lux of sunlight for at least three hours a day (on a sunny day the light intensity can be up to 100,000 Lux) the solar-charging lens can increase battery life up to 24 hours per week in the abovementioned smartwatch mode, six hours in GPS mode, or one hour in GPS and music mode. A widget can display solar charging activity over the past few days, and one of the watch faces includes a graphical representation thereof. Unfortunately, we were unable to test this feature high up in the mountains as intended because the watch arrived too late. On top of that, the test would have been performed in the less-than-ideal fall weather.
Pros
+
customizable training displays
+
multiple location services
+
planning and analysis features
Cons
-
no cellular connectivity
Verdict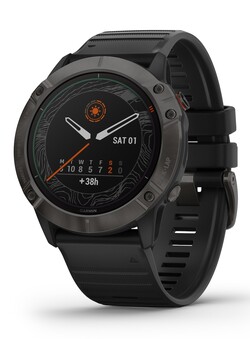 From a sports watch perspective the Fenix 6X Pro is almost impossible to beat due to its innate combination of technology and software. While it is truly fascinating that all features are readily available at the touch of a button (or multiple buttons) on your wrist, they are much more comfortable to use on your smartphone.
The Fenix 6X Pro's possibilities are seemingly endless. Too bad they are very hard to use on the watch itself.
In everyday use the Fenix 6 turned out to be less ideal than during exercise sessions. Its massive number of features makes it immensely complicated to find even simple things during day-to-day use. The lack of a touchscreen could have been compensated for by a rotatable bezel, like on Samsung's Galaxy Watch. Standard smartwatch features, such as displaying and answering messages, are not as smooth and usable as they are on other wearables. Even though Garmin emphasizes the watch's fitness and exercise capabilities it should be able to handle everyday smartwatch requirements much better considering its current price of $800 (Fenix 6X Pro) or $1,000 (Fenix 6X Pro Solar). At this price, we would have also expected a built-in speaker for answering phone calls.
I initially earned my pocket money by filing paper records and earned my first salary by destroying them: For years I have supported digital transformation processes in both large and small IT projects. With two successfully completed degrees, in Computer Science and Technical Communications, I managed to combine my expertise with my passion for writing. I have written articles for connect, c't, Mac & I, and the Microsoft and Samsung portals. With Notebookcheck, I sometimes move my workplace outdoors into nature so I can put fitness trackers and smartwatches to the test beyond the confines of my desk.
Born in the United States and raised in Germany I became acquainted with both languages from an early age and turned this into my profession later in life. Computers have always played an important role in my life, and my love for all things digital is a huge part of my daily routine. Virtual Reality has captured my imagination and interest in particular, and I cannot wait to see what the (near) future will bring.