Galaxy A7 (2018) is Samsung's first triple-rear-cam phone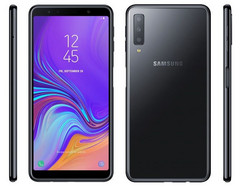 Currently integrated only in high-end smartphones, the triple-camera setup on the back of the Galaxy A7 (2018) may suggest that Samsung is willing to make it a mid-range feature. The Galaxy S10 is rumored to include three rear cams, as well, but it seems like Samsung want to release this feature as soon as possible with the mid-ranger rather than the usual high-end models.
Huawei was the first OEM to release a triple-rear-cam phone with the P20 series this year, and it looks like this feature is become a standard for high-end and mid-range smartphones. Samsung is planning a counterattack with the launch of the Galaxy S10 that is rumored to integrate triple-cam setup, but, according to the latest leaks, that will not be the first Samsung model with three rear cameras.

Dutch retailer Belsimpel.nl leaked official pics for the 2018 Galaxy A7 model that appears to have three cameras on the back. This was reported by Roland Quandt via Twitter, and it looks like this is no mix-up, as the Dutch site already proved to be a reliable leak source when it released the Galaxy J4+/J6+ images earlier his month. Originally thought to feature a single rear camera, the Galaxy A7 2018 edition has already been spotted in Geekbench last year sporting an Exynos 7885 SoC and 6 GB of RAM; however, it is unclear if Samsung will keep such early specs on this model.

Taking a closer look at the leaked pics, the display features smaller upper/lower bezels as the home button was removed, and the aspect ratio seems to be 2:1. The mid camera appears to integrate a telephoto lens, but Samsung could have done a better job when it chose the camera setup placement.

For now, there is no info on when exactly this model will be launched, but this leak suggests that the official announcement should come sooner rather than later.