Fujitsu and Microsoft partner to bring palm-vein based authentication to Windows Hello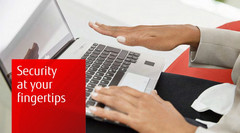 Fujitsu's PalmSecure authentication sensor technology, built in to their business laptops, is getting full integration with Windows Hello for a contactless login option that doesn't involve facial cameras.
Working For Notebookcheck
Are you a techie who knows how to write? Then join our Team! Especially English native speakers welcome!
Currently wanted:
News and Editorial Editor - Details here

In early December a Samsung patent was made public which detailed a Palm ID system which would use the unique palm attributes to identify a user and display a random connection of symbols on their palm that would help to jog their password memory. Now a Microsoft and Fujitsu partnership is bringing palm vein authentication as a log-in method to Windows 10 Hello.
A limited number of companies (mostly in the financial field) have started using palm vein authentication, but with this move, it will be available to the public. Fujitsu is embedding their PalmSecure sensors into selected notebook business models, and Microsoft has added the drivers necessary to support these sensors. Fujitsu is the only manufacturer producing laptops with the required hardware pre-installed, and support is limited to Windows 10 Pro due to specific features necessary for proper operation.
Where Samsung's method relied on using the visible surface of the palm, Fujitsu's method uses infrared to take measurements of the veins under the skin, which follow a unique pattern from one person to the next. An added benefit is that current technology can more easily create copies of faces and fingerprints than palm veins (or irises), meaning that this should be a comparatively strong spoofing-resistant technology.
The PalmSecure sensor itself has been around for a few years now and has a false-identification rate of 0.00001%, which Fujitsu claims to be the lowest of all biometric authentication methods.