First-generation Tesla Roadster sells for an eye-watering price of more than US$250,000 as the electric sports car becomes a collectible ↺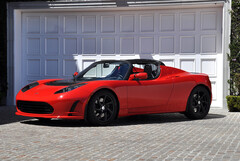 Being an early adopter of a new tech product which is made by a rather unproven company is often associated with certain risks, but as with many investments, that risk can ultimately pay off and result in significant financial gains. This is exactly what seems to be happening for lucky owners of an original first-generation Tesla Roadster, the very first car made by the successful EV pioneer that is now based in Austin, Texas.
According to a report by Electrek, a 2008 Tesla Roadster has now been sold for a stunning price of more than US$250,000, which indicates that Tesla's first electric sports car gradually turns into a sought-after and therefore valuable vehicle for collectors. In all fairness, the vehicle in question probably reached such an incredibly high price because of its extremely low mileage of just 840 miles as well as the very early VIN 013.
Most notably, this original Tesla Roadster from 2008 turned out to be more expensive than the upcoming new generation of the sporty electric two seater, which can already be pre-ordered on Tesla's official website. The new iteration will of course easily surpass the electric range of 244 miles, the 0 to 60 mph acceleration of 3.7 seconds as well as the top speed of 125 mph which made the lithium-ion powered first-generation Tesla Roadster a classic that now seems to appreciate in value.
Order the Pulsar Plus Level 2 Electric Vehicle Smart Charger on Amazon
My fascination for technology goes back a long way to the Pentium II era. Modding, overclocking and treasuring computer hardware has since become an integral part of my life. As a student, I further developed a keen interest in mobile technologies that can make the stressful college life so much easier. After I fell in love with the creation of digital content while working in a marketing position, I now scour the web to bring you the most exciting topics in the world of tech. Outside the office, I'm particularly passionate about motorsports and mountain biking.