Firmware update finally brings on-screen Surface Dial support to the Surface Pro 4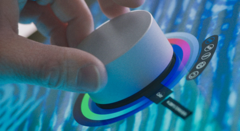 Artists, designers, and editors with Surface Pro 4's can now enjoy full on-screen controls when using a Surface Dial on their Surface device. The Surface Dial provides basic functionality for all Bluetooth 4.0 LE equipped Windows 10 devices, but only the Surface Studio, Surface Book 2, Surface Pro 2017, and Surface Pro 4 provide the full experience.
Working For Notebookcheck
Are you a techie who knows how to write? Then join our Team! Especially English native speakers welcome!
Currently wanted:
News and Editorial Editor - Details here

Microsoft has brought on-screen support for the Surface Dial to the Surface Pro 4 courtesy of a firmware update released yesterday. While the Dial — which arrived with the Surface Studio in 2016 — will connect with most Windows 10 devices that support Bluetooth 4.0 LE, only the Surface Studio, Surface Book 2, and Surface Pro 2017 have had full on-screen functionality. Microsoft initially promised on-screen Surface Dial functionality via a firmware update for the Surface Pro 4 by early 2017, so although its arrival now is good news, it is a year late.
The Surface Dial's off-screen functionality includes zooming, scrolling, and volume control. However, it was originally created as an artist and designer tool, and its real power shows when used on-screen with supported software to give quick and easy access to select and modify tools such as pen thickness or brush color. Microsoft has developed support for their own software and third-parties are getting on-board too, with software support for programmes such as PhotoShop, Premiere Pro, Drawboard PDF, CorelDRAW, SketchBook, and Sketchable.
Surface firmware is distributed over Windows Update, but a manual install can be done using the download link in the original Microsoft announcement.