Enthusiasts bring classic ThinkPad designs to the modern era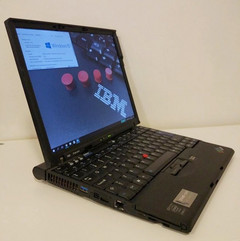 Classic ThinkPads are alive and well thanks to some dedicated enthusiasts in China. With a completely custom-made motherboard, 1400 x 1050 IPS panel, Broadwell CPU, and updated ports, the X62 is a modern laptop in retro clothing.
Working For Notebookcheck
Are you a techie who knows how to write? Then join our Team!
Currently wanted:
News Editor - Details here
Italian Translator - Details here
When you hear the name "ThinkPad", a few things will probably come to mind: their minimalist bento-box design, second-to-none keyboard, and legendary reliability. While the originator of the ThinkPad name, IBM, sold the brand off to Chinese manufacturer Lenovo in 2005, the ThinkPad traditions of minimalist design, usability, and reliability have been stewarded fairly well since then. However, Lenovo did oversee two major changes to the ThinkPad line that some cannot get past to this day: the switch from classic to island-style keyboard (along with the removal of the top 7th row of keys), and the complete abandonment of the 4:3 screen aspect ratio (today's Windows laptops are almost exclusively 16:9).
It's understandable why many people didn't like the change to an island-style 6-row keyboard layout, but why are there sticklers for a 4:3 display? Maybe it's got something to do with the document-centric business heritage of the ThinkPad, as some say text is easier to read in 4:3. Still, many more people find the 16:9 style much preferable and have never looked back. Truth be told, it probably comes down to simply preferring the classic feel of it. Released in 2007, the last laptop Lenovo with a 4:3 screen was the X61. The X61 was a solid performer for its time, but, a decade later, the Intel Core 2 Duo that it utilized has trouble rendering anything but the most basic of today's webpages. Thus, if you love classic ThinkPad design and yearn for a 4:3 laptop to use in your day-to-day, you are out of luck.
...Or so you would be, if not for some incredibly clever ThinkPad enthusiasts operating out of China. In 2015, the admin of 51nb.com's ThinkPad Community forum, known as "HOPE", began working on a modded motherboard for the X61 with his team. The project grew in popularity and scope until, eventually, the 51nb team started selling a fully assembled modded X61, complete with a custom motherboard based on HOPE's own design. This completely custom machine with modern internals was dubbed the X62—the sequel to the beloved X61.
The X62's specs are quite a boost from the X61's in nearly all areas: The screen has been updated from a 1024 x 768 TN to a 1400 x 1050 IPS panel. The Core 2 Duo has been replaced with an Intel i7-5500u, and the motherboard has been completely revamped as well. The team has added support for up to 32 GB of RAM, mSATA SSD and 2.5-inch SSD support, and mini HDMI, mini DP, and USB 3.0 ports (unfortunately, the VGA, dock, and Cardbus ports were sacrificed for this modernization).
The machines, due to the ad-hoc nature of their construction, are not without their niggles (which HOPE's team is continuously working on improving): reviews by users on reddit's r/thinkpad forums noted some issues with fan speeds, as well as the quality of the audio—which seemed to stem from the selection of audio hardware. However, the latest firmware mostly ameliorates these annoyances. Overall, however, the owners seem to love the retro feel of the classic keyboard and 4:3 IPS display, finding them a refreshing blend of the best of the old and new ThinkPads.
There are other modded ThinkPads the team is working on as well: Their X320 and X330 laptops, based off the ThinkPad x220 and X230 series, are retrofitted with the XPS 13's InfinityEdge displays. The latest projects to take their attention are updates to the X201 and T60 ThinkPads, which will become the X210 and T70, respectively. More information (in English) about the group's projects is on their facebook page.
The ThinkPad line commands a following that some might call "cult-like", but others might just call "devoted". There is indeed a certain charm that the line still has—even in their most modernized interpretations such as the X1 Carbon. For member's of 51nb's community and HOPE's team, though, what draw them to keep modding classic ThinkPads are the build quality, trackpoint, and above all else, the giddy, anachronistic feeling of using a 4:3 screen in 2017.
Quality journalism is made possible by advertising. We show the least amount of ads whenever possible. We intentionally show more ads when an adblocker is used. Please, switch off ad blockers.