Introduction
One of the most overlooked aspects of the gaming experience is audio. However, the gaming audio industry is growing rapidly and producing some interesting and innovative tech to improve immersion. One company in this space is Embody, whose Immerse audio software brings a useful and enriching set of features to a variety of games. The HIVE flavor of Immerse aims to bring spatial audio to a broad range of headphones and headsets.
Embody sent me Beyerdynamic's MMX 300 gaming headset to try the Immerse HIVE software. I've used both the headset and the software for about a month with games in various genres. Here are my thoughts on the HIVE software.

Immerse Gaming HIVE - Universal Spatial Audio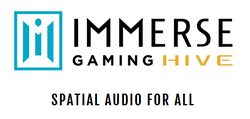 Embody designed its Immerse Gaming HIVE software with a high level of compatibility in mind. Embody makes company-specific flavors of Immerse (specifically for Logitech, Audio-Technica, and Beyerdynamic), but HIVE works with 44 headphones and headsets from 9 brands: Audeze, Audio-Technica, Beyerdynamic, Corsair, HyperX, Logitech G, Razer, Sennheiser, and Steelseries. The key to HIVE's broad usability lies in its AI-driven ear-mapping software (more on this below).
HIVE supports stereo audio, 5.1 surround, and 7.1 surround. It also includes genre-specific profiles that gamers can switch on the fly and a handy "sonar" visualizer to help users determine the origin of sound in relation to their character. The entire package is relatively simple but works well with little waste. HIVE is available as a software-as-a-service (SaaS) model; a subscription goes for US$14.99 per year or $39.99 for five years.

User Interface and Features
HIVE's user interface is very simple. Thus, it is easy to use. The home screen shows your headphones as well as the currently used sound channel (easily recognizable with 5.1 or 7.1 surround headphones). The buttons along the bottom of the home screen allow users to select one of three preset audio modes: Close Combat, Immerse, or Awaken. Close Combat pushes audio closer to the user to create a compacted sound stage. Immerse mode broadens the sound stage and is a good middle-ground for most games, particularly FPS titles where a blend of sounds from both nearby and faraway noises can help the player build a good image of enemy placements. Lastly, Awaken mode stretches the sound stage and tries to equalize sounds from near and far sources.
Settings are straightforward if a bit sparse. Users can switch profiles (more on this below), change their audio channel setup, and customize the appearance of the sonar tool.
This sonar tool is likely a big draw for many players. It enables a floating visualizer for game audio to help gamers pinpoint the exact location of sound sources. The Beyerdynamic MMX 300 headphones support 5.1 surround sound, so the visualizer lights up the front, front-left, front-right, rear-left, or rear-right zones. The sonar feature is remarkably accurate and can help hone in on specific game sounds. It's a nice feature, but its usefulness will heavily depend on the gamer. Some will enjoy the visual representation of sound sources, while others may find it distracting and never use the feature.

I tested all three preset modes and the sonar in several games, both new and old. HIVE worked flawlessly with all of them, from Half-Life 2 all the way to DOOM Eternal.

Head-Related Transfer Function (HRTF)

The main standout of Embody's software is its use of AI to take advantage of an individual's head-related transfer function, or HRTF. In a nutshell, An HRTF determines how an individual pinpoints a sound source based on how sound interacts with their physical makeup (e.g., diffraction caused by the shape of the head or the outer ear). Creating an accurate HRTF is key to an immersive sound experience, but the process can be time-consuming as an accurate map of an individual's ears, face, and head must be made.
Embody takes a different and more efficient approach to constructing an HRTF for use with HIVE and other products. Users simply upload a picture of their right ear to their Embody profile, and an AI program maps the ear to create an individualized HRTF for use with HIVE. Of course, this method isn't as accurate as other ways to build an HRTF, but it is a fast, cheap, and "good enough" approach to the problem.
But does it work? In a word: yes. After uploading a clear picture of my ear and re-launching the software, I noticed an improvement in the spatial audio in games. The shift was subtle, but the overall experience was better. Sounds came through a little clearer, and directional audio seemed more accurate. This could be a placebo effect as I don't have any way to technically analyze the change. However, my anecdotal verdict is that HIVE's HRTF construction makes a noticeable (if subtle) improvement. Whether or not this feature is worth $15 a year is up to an individual player, but those that game in VR or competitive shooters may appreciate the better-tuned experience of HIVE.

Drawbacks
Due to its simplicity, HIVE leaves little to complain about. I have one main irritation with the software. HIVE caused some noticeable and annoying stutter in some games. For example, while playing Hitman with the sonar feature active, the game would intermittently stutter for half a second or so every 5-7 minutes. These stutters didn't happen when the sonar feature wasn't active. Other games, like DOOM Eternal, ran without a hitch with or without the sonar HUD. This stuttering is curious, as HIVE uses roughly 1.5-2% of my 8-threaded CPU when running in the background, which isn't a heavy load.
Other than this limited stuttering, HIVE worked without any major impact on my system and was an overall net benefit to my gaming experience.

Conclusion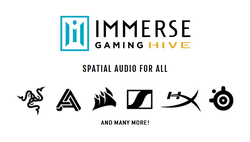 Embody has added a few nice features to the increasingly popular spatial audio market with HIVE. The sonar visualizer may be helpful to some gamers, and the AI-driven HRTF feature improves the audio immersion of a game in ways that most spatial audio software and hardware can't. These are subtle touches; as such, their utility or desirability may be limited.
There are some things to consider. First, HIVE is designed for high-end gaming headphones. While it is technically compatible with almost any headset or pair of headphones in the world, it is best used with one of the 44 preset headphone options, some of which run past $100.
Secondly, most of HIVE's features are subtle tweaks to gaming audio that may not be recognized by some. I noticed a marked improvement in the overall aural experience, but some gamers may not. Thankfully, Embody offers a trial period for HIVE so that users can test it out and determine if it is worth the cost.
Speaking of cost, HIVE is a luxury purchase. HIVE isn't expensive at $15/year ($40 for five years). That works out to about $1.25 a month on the annual subscription or $0.67 a month for the five-year plan. I wouldn't say that HIVE is an absolute necessity for gamers, but based on the low price and the unique improvements it brings to gaming audio, I think it's absolutely worth the cost. This is especially true if you already have one of the supported headsets. Thanks to the two-week free trial, this is almost a no-brainer; at the very least, gamers with a compatible headset should download HIVE and give it a whirl.
Embody's Immerse Gaming HIVE software can be downloaded at Embody's website here.
Disclaimer: The author of this review received the Embody Immerse Gaming HIVE audio software and Beyerdynamic MMX 300 headset free of charge for the purpose of testing.
I've been a computer geek my entire life. After graduating college with a degree in Mathematics, I worked in finance and banking a few years before taking a job as a database administrator. I started working with Notebookcheck in October of 2016 and have enjoyed writing news and reviews. I've also written for other outlets including UltrabookReview and GeeksWorldWide, focusing on consumer guidance and video gaming. My areas of interest include the business side of technology, retro gaming, Linux, and innovative gadgets. When I'm not writing on electronics or tinkering with a device, I'm either outside with my family, enjoying a decade-old video game, or playing drums or piano.