Deal | EasySMX GK82 keyboard offers per-key RGB lighting, mechanical switches, wireless connectivity, and a minimalist design for just under $55 USD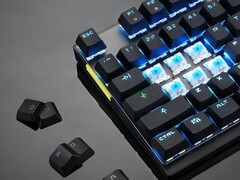 After checking out the wired 60 percent HyperX Ducky One 2 Mini mechanical keyboard, we're now interested in seeing how a similar 80 percent mechanical keyboard for a third of the price can compare. The wireless EasySMX mechanical keyboard currently retails for about $55 USD to be significantly cheaper than the $160 USD Ducky.
The manufacturer sent us a test unit for our impressions and, after a few weeks of use, the cut corners stand out. In particular, users lose out on the RGB lighting and supplementary keycaps that are both present on the Ducky. Its wireless feature relies on a proprietary USB receiver instead of the more universal and convenient Bluetooth standard. Furthermore, charging is via USB-C only as the batteries are not removable.
Fortunately, the core typing experience remains intact. The blue switches, for example, emulate the real Cherry Blue switches quite closely including the light initial press before resistance kicks in. The per-key blue LED lighting is easier on the eyes than the typical white lighting on most other keyboards and it automatically turns off after a moment of inactivity to save on battery. Users uninterested in wireless mode can still use the keyboard in wired mode.
As a barebones minimalist keyboard, the EasySMX feels comfortable without carrying an exorbitant price tag. Red and brown switches are available as well albeit they are tied to specific keyboard colors.
Per-key blue lighting
Wireless USB receiver (range up to 10 m)
Blue, brown, and red switch options
n-key rollover
ABS plastic
38.9 x 17 x 5.6 cm
712 g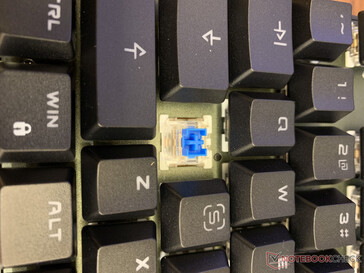 Source(s)
Notebookcheck receives no commissions from sales made through the link
After graduating with a B.S. in environmental hydrodynamics from the University of California, I studied reactor physics to become licensed by the U.S. NRC to operate nuclear reactors. There's a striking level of appreciation you gain for everyday consumer electronics after working with modern nuclear reactivity systems astonishingly powered by computers from the 80s. When I'm not managing day-to-day activities and US review articles on Notebookcheck, you can catch me following the eSports scene and the latest gaming news.