Doogee S96 GT hands-on: A well-made rugged Android 12 smartphone for selfie lovers
Back in 2020, Doogee released the S96 Pro smartphone with Android 10 onboard, a night vision camera, and powered by the MediaTek Helio G90 processor. That MIL-STD-810G-rated rugged handset became a bestseller and, according to Doogee, more than one million units were sold.
Now, the S96 Pro returns as the S96 GT with the same specs overall, including weight and dimensions, but is powered by the MediaTek Helio G95 processor and preloaded with Android 12. The Doogee S96 GT is certified to comply with a superior ruggedness standard, trades the green color option for gold, and also receives a 32 MP selfie shooter. Last, but not least, the 128 GB storage space of its predecessor is pushed up to 256 GB.
In the end, are all the changes mentioned above enough to make the Doogee S96 GT at least as successful as its predecessor? This is the question that we will try to answer in today's hands-on review.
Technical Specifications
| Doogee S96 GT | MIL-STD-810H Android smartphone |
| --- | --- |
| Processor | MediaTek Helio G95 |
| GPU | ARM Mali-G76 MP4 |
| Display | 6.22-inch IPS LCD, 1,520 X 720 pixels |
| Memory | 8 GB |
| Storage | 256 GB and microSD support up to 512 GB |
| Water resistance | IP68, IP69K |
| Connectivity | 4G dual SIM, Bluetooth 5.0, WiFi 802.11ac/a/b/g/n, NFC, 3.5 mm audio jack, USB-C, GPS with Glonass, Beidou, Galileo support |
| Main cameras | 48 MP AI camera f/1.8 (Samsung S5KGM1ST), 20 MP night vision IR f/1.8 (Sony IMX350), 8 MP wide 130° FOV f/2.2 (Samsung S5K4H7), 2 MP portrait f/2.8 |
| Selfie camera | 32 MP 90° FOV f/2.0 (Sony IMX616-AAJH5-C) |
| Battery capacity | 6350 mAh, 24 W fast charging and 15 W wireless charging |
| Battery life | 2-3 days regular use, 29 hours calls, 19 days standby |
| Weight | 310 g (0.68 pounds) |
| Dimensions | 167 x 81.4 x 15.5 mm (6.57 x ) |
| OS | Android 12 |
| Colors | black, orange, gold |
| MSRP | US$349.99 |
Box contents, design, build quality
Although released as a limited edition device, the gold Doogee S96 GT provided for this review comes in a typical yellow box, similar to that of the less capable Doogee S61 Pro. In addition to the phone itself, the cardboard box also contains a spare screen protector and the accessories needed to apply it properly, a SIM tray removal tool, a wrist rope, a user manual, a warranty card, as well as a 24 W charger and a USB-A to USB-C cable.
Design-wise, the Doogee S96 GT is identical to its predecessor. The dimensions and weight are the same, all ports and buttons have the same placement. The customizable key is on the left, while the dedicated fingerprint scanner, power button, and volume buttons are located on the right. The display is the same 6.22-inch LCD HD+ with a water-drop notch that is also found in the S96 Pro. The speaker sits on the back, which is both a good and a bad idea. If the phone drops bottom corner-down, the likelihood of damaging the speaker decreases, but the sound faces outwards when playing videos or in a call.
While the phone feels solid in hand and the metallic parts look great, the polycarbonate and rubber parts of the case look and feel rather cheaper. However, this is a tool for tough environments, not a phone that one would use as a fashion statement, so I don't see a problem in having some less refined parts. But since the Doogee S98 Pro featured very good materials and craftsmanship all around, one can only hope that the successor of the S96 GT will raise the bar for the S96 lineup as well.
Benchmarks
| Benchmark | Score/Details |
| --- | --- |
| A1 SD Bench | 422 MB/s read, 324 MB/s write for the internal memory; 4610 MB/s for RAM copy |
| Geekbench | 490 single-core, 1629 multi-core; 1998 Vulkan, 1973 OpenCL |
| GFXBench | 1413 frames (High Tier) and 2228 frames (Normal Tier), both on Aztec Ruins OpenGL at 1370 x 720 pixels |
| 3DMark | 3247 (Sling Shot, OpenGL ES 3.0) and 1354 (Wild Life, Vulkan) |
Real-life performance and battery life
As shown by the benchmark results above, the performance figures of the Doogee S96 GT are in line with what we could expect from a MediaTek Helio G95-powered handset. When it comes to games and heat, I just ran Raid: Shadow Legends for at least 30 minutes and then held the phone. Barely warm, and far from hot. I also measured the temperature on both sides with two thermal imaging cameras, and the values shown were always below the normal human body temperature.
Modern games like NFS No Limits might not work flawlessly at the highest quality settings, but the low screen resolution of the Doogee S96 GT makes most gaming experiences smoother than expected. The speaker can get quite loud, so if there's nobody around to be disturbed by it, gamers can spend some quality time with this rugged smartphone that was certainly not designed for gaming.
In terms of battery life, the Doogee S96 GT can easily get through an entire day in mixed-use scenarios, but playing games and shooting photos will deplete its battery in roughly 8 hours. That being said, the 2-3 days autonomy mentioned by Doogee for regular use is realistic for most potential buyers. Wired charging time is about one hour and a half, and wireless charging takes at least three hours, depending on the charging pad.
Cameras: Avoid low-light scenarios when not using the night vision camera
Since the specs of the cameras were mentioned earlier, I will get straight to the point by saying that while the IR night vision camera can deliver good results — sometimes quite impressive, in fact — for navigating in the dark and for taking snapshots that usually end up a bit out of focus. The selfie shooter gets the job done well enough in well-lit conditions, but the software often fails to process the input properly, for example when using the Portrait mode.
Speaking of the camera software, I will say that the Night Vision mode is unusable. The use of the UHD or regular photo modes provides better results, but even then it is very hard to shoot decent night photos. Street lights, for example, made a mess of all my shots, no matter what settings I used. Using a third-party camera software like Open Camera could solve the problem, but it wasn't my goal to do this. Anyway, a third-party piece of code cannot solve the rather strange visual artifacts that I noticed at night, which are most likely caused by the optical assembly of the cameras.
In good lighting conditions, the shots taken with the Doogee S96 GT can turn out decent, but the colors still look washed out. Thankfully, this is nothing that an image processing software can't handle.
Software: Android 12 with a few minor adjustments and less frequent updates
Doogee made a few minor modifications to the vanilla Android 12 ROM and loaded it on the S96 GT. The most obvious changes are the "Easy Key" configuration section, the "OutDoor Toolbox" suite of useful tools for various tasks, including the ability to measure the sound level, and Doogee's software updater.
Sadly, the aforementioned software updater means that the Doogee S96 GT does not receive updates directly from Google. Because of this, the latest Android security update installed on the smartphone is dated June 5, 2022. Sadly, Doogee does not release updates as quickly as other manufacturers. A notable example for this is that the Doogee V20, which will soon get a successor and was promised to get Android 12, but is still waiting for it.
On the bright side, the software is stable, runs well, and will receive at least critical security updates and minor tweaks from time to time. This could have been worse, but there is also much room for improvement.
Conclusion: The good, the bad, and the truth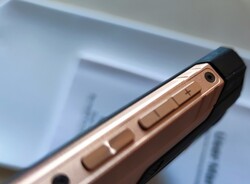 With attractive looks for a rugged phone, the Doogee S96 GT also features generous battery life, plenty of memory and storage space, as well as a clean software environment. The 32 MP selfie camera works well in most scenarios, although it obviously struggles in low-light conditions. The night vision IR camera is very good at shooting photos in complete darkness, but even more for real-time navigation in preview mode (maximum range is now roughly 15 meters/50 feet). The fingerprint reader works great and is not located on the power button, something that I often find quite inconvenient on my Xiaomi Mi 10T Pro.
Overall, the photo and video shooting quality is far from what I expected. Future software updates might improve things a bit, but it is possible for some visual artifacts to be caused by the low-quality lens. The buttons jiggle and some non-metallic parts of the case could have been manufactured more carefully. The display is the same lackluster low-resolution IPS LCD as that of the S96 Pro, and maybe the next member of the S96 family will finally sport an AMOLED panel.
As an upgrade to a rugged Android 10 handset, the Doogee S96 GT gets many things right: it comes with Android 12, a slightly faster processor, more storage, and an improved military standard protection rating. But as a daily driver for general use, the Doogee S96 GT is less relevant now than its predecessor was back in 2020. How relevant depends on the price and the user's specific requirements.
Disclaimer: The author of this review received the Doogee S96 GT rugged smartphone from Doogee free of charge for the purpose of testing.
Price and availability
Only available in a 8/256 GB variant, the Doogee S96 GT is currently available on Amazon US for US$349.99, but a US$30 coupon is available for a limited period as well. On Amazon.de, it is available for 349.99 EUR. The price when purchasing from online Chinese retailers such as Aliexpress or Geekbuying varies a lot depending on the buyer's location and various promotions that might apply, so feel free to look for the best deal around while keeping in mind that, in these cases, shipping and import fees might apply.
Source(s)
Doogee (official product page)
In my early school days, I hated writing and having to make up stories. A decade later, I started to enjoy it. Since then, I published a few offline articles and then I moved to the online space, where I contributed to major websites that are still present online as of 2021 such as Softpedia, Brothersoft, Download3000, but I also wrote for multiple blogs that have disappeared over the years. I've been riding with the Notebookcheck crew since 2013 and I am not planning to leave it anytime soon. In love with good mechanical keyboards, vinyl and tape sound, but also smartphones, streaming services, and digital art.