DJI releases new racing Goggles for drone racing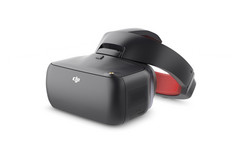 DJI is getting serious about drone racing. The latest version of its Goggles is targeted at the burgeoning drone racing market and offers a number of feature upgrades over its standard model.
DJI has released the latest version of its DJI Goggles for drones. The new DJI Googles Racing Edition (RE) features an updated design along with specification and performance improvements desired by drone racers.
The new Googles come with a redesigned metallic matte black visor and headband along with revised padding sheathed in high-quality red leather. They receive video in either analog and digital video. DJI's new OcuSync Video Transmission Module coupled with a high-performance camera module can transmit video signals from up to 7 km away with latency as low as 50 ms.
The DJI Goggles (RE) will also work with non-DJI branded drones as well as third-party flight controllers. It also incorporates 12 transmission channels designed to minimize interference during races when a range of channels can be on use simultaneously. They are retailing on DJI's site for US$549.