Cisco to buy AppDynamics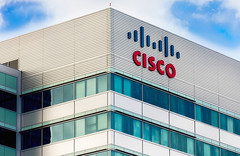 This deal is valued at no less than $3.7 billion and aims to give Cisco a broader reach in analytics, as well as an increased impact on the software market. In the future, Cisco plans to provide a comprehensive suite of monitoring tools thanks to the technology that comes with AppDynamics.
A new major corporate deal has just been unveiled by Cisco, who aims to acquire AppDynamics for around $3.7 billion in both cash and assumed equity awards. AppDynamics is a privately held application intelligence software company headquartered in San Francisco.
According to Rowan Trollope, Cisco senior vice president and general manager of Cisco's Internet of Things and Applications Business Group, "The combination of Cisco and AppDynamics will allow us to provide end to end visibility and intelligence from the network through to the application; which, combined with security and scale, and help IT to drive a new level of business results."
The acquisition is subject to customary closing conditions and should close in Cisco's third quarter of FY 2017. AppDynamics will keep its CEO and will turn into a new software business unit in Cisco's IoT and Application business, reveals the official press release that you can check below for more details.