Chuwi SurBook 2-in-1 now on Indiegogo for $299 USD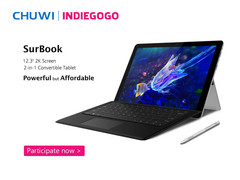 The early bird price will be available to only the first few hundred backers before prices go up to the ~$350 USD range for the entry-level SKU. Even so, the 2-in-1 will pack impressive features compared to the pricier Surface Pro 4 alternative.
Announced earlier this year in April, Chuwi is finally ready to launch its direct competitor to the Microsoft Surface Pro 4 with the upcoming all-metal SurBook. The tablet even includes a similar built-in rear kickstand that can be opened up to 125 degrees for easier use. Core specifications include:
12.3-inch 2K resolution (2736 x 1824) touchscreen
3:2 display aspect ratio, 450 nit brightness
2.2 GHz Intel Celeron N3450 processor
6 GB RAM
64/128 GB internal storage
Dual-band 802.11ac WLAN
USB Type-C, 2x USB 3.0 Type-A
10000 mAh internal battery
The catch, however, is that the Chinese manufacturer will first need to raise at least $30000 USD through a crowdfunding campaign on Indiegogo. The entry-level model can be had for $299 USD while the $349+ SKUs will include the detachable keyboard and active stylus pen with double the internal storage space. SKUs are limited to 200 units each, so Chuwi is encouraging backers to purchase sooner rather than later or else prices will go up once a certain minimum is reached.
We recommend checking out the official Indiegogo page below for more details and technical specifications on the SurBook project.