BlackBerry KEY2 Lite could be launched at IFA 2018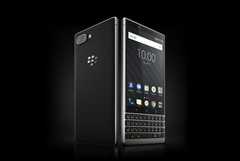 Rumors about a BlackBerry KEY2 Lite smartphone are have just been refueled with TCL's teaser of a new model that will be announced at IFA 2018 on August 30. The Lite version should keep the same appearance as the regular version, complete with the QWERTY keyboard, but some key hardware components like the SoC, memory, camera setup and battery would be downgraded.
Chinese manufacturer TCL is gradually expanding its product portfolio, which currently consists of TVs, dehumidifiers and smartphones. Most of the smartphone models are produced under various licenses from Alcatel, BlackBerry, and the company even managed to obtain production license for the once well-known Palm brand.

Most of TCL's smartphone revenues come from the BlackBerry handsets, though. The problem with its latest BlackBerry KEY2, however, is that it seems a bit overpriced for what it offers. There were some rumors saying that a more affordable version of the KEY2 could be launched soon, and TCL's teaser of a new model launching at IFA on August 30 is now refueling the speculation.

According to Matthew Hughes on Twitter, TCL is likely to launch a Lite version of the KEY2 at IFA. GSMArena also points out that the Lite version is rumored to feature the same display and QWERTY keyboard from the regular version, but the Snapdragon 660 SoC would be downgraded to a 636 one and the RAM could drop from 6 GB to 4 GB. The rear cam setup is supposed to get downgraded too, from 12 MP + 12 MP to 12 MP + 5 MP, while the model is expected to come with a 3,000 mAh battery.

As for pricing, if TLC manages to market the Lite version for US$300, the model might just get some more traction, especially in India.