comScore, the digital media analytics company, has released latest data regarding smartphone market share in the United States.
In April 2015, Apple was the biggest smarthone manufacturer, with 43.1 percent market share (a 1.8% increase since January 2015). Apple's leading position looks quite safe at the moment, with Samsung's market share of just 28.6%. LG sits in the 3rd position, with 8.4% of all devices on the market.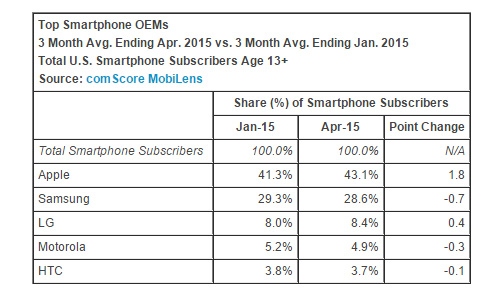 source: Comscore.com
At the same time, Android held its position of most popular platform with 52.2 percent of smartphones in the USA running the Google's operating system (1 percent less than in January this year). Apple's iOS follows with 43.1 percent (up 1.8%). Microsoft Windows Phone can only boast a 3-percent market share and once-popular BlackBerry OS barely makes it to the list with 1.5% share.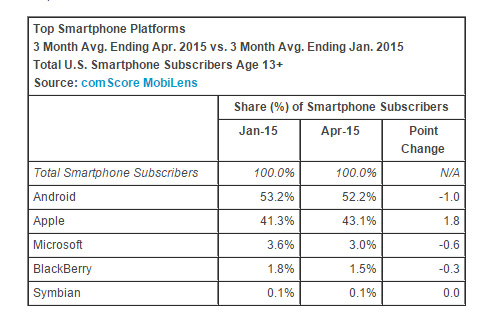 source: Comscore.com
Facebook has been found to be the most popular single application on Android and iOS combined – as much as 71.1 percent of smarthone users have it installed on their device. The Facebook app is followed by YouTube (57%) and Google Search (51.8%).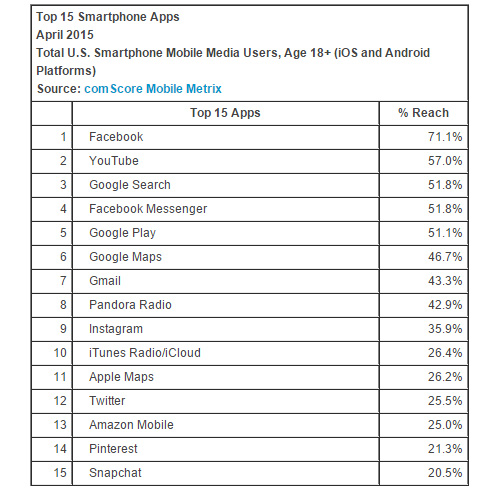 source: Comscore.com