Acer Revo One RL85 Mini PC Review

For the original German review, see here.
A few weeks ago we reviewed Intel's Barebone-Mini NUC 5i5RYH. Designed as a barebone, the system requires the user to add the missing components and install an OS. Of course, not everyone might find this approach appealing, since it requires - in addition to technical knowledge - at least some time and effort. Users who are not comfortable with the steps required might be inclined to look for a complete, ready-to-go system instead.
Acer's Revo One RL 85 is exactly that: the system comes completely equipped with all necessary hardware components, Windows 8.1 as the OS, and a wireless keyboard and mouse. As far as we know, Acer offers the tiny PC in 13 different configurations which can differ quite dramatically in their choice of CPU, GPU, RAM, and mass storage. The entry-level version can be had for 300 Euro (~$340); the top model sells for about 870 Euro (~$980).
Our review PC is equipped with an Intel Core i5-5200U-CPU, Intel HD Graphics 5500, 4 GB RAM, and 3 TB of storage. This configuration sells for about 700 Euro (~$785).
Acer Revo One RL85 DT.SYYEG.010
Memory
4 GB
, PC3-12800, 1x 4 GB, single-channel, max. 8 GB per slot
Storage
Seagate ST1000LM014 Solid State Hybrid Drive, 1000 GB
, 5400 rpm, 1 TB System SSHD + 2 TB HDD
Soundcard
Intel Broadwell PCH-LP - High Definition Audio Controller
Connections
2 USB 2.0, 2 USB 3.0 / 3.1 Gen1, 1 HDMI, 1 DisplayPort, 1 Kensington Lock, Audio Connections: in/out SPDIF, Card Reader: SD, SDHC, SDXC, UHS-I
Networking
10/100/1000 LAN Card (10/100/1000MBit/s), Realtek RTL8821AE 802.11ac (), Bluetooth 4.0
Size
height x width x depth (in mm): 155 x 107 x 107 ( = 6.1 x 4.21 x 4.21 in)
Operating System
Microsoft Windows 8.1 64 Bit
Additional features
Keyboard: Wireless Chiclet, Keyboard Light: no, 24 Months Warranty, 1 USB port is occupied by USB receiver for the wireless keyboard and mouse
Weight
2 kg ( = 70.55 oz / 4.41 pounds) ( = 0 oz / 0 pounds)
Note: The manufacturer may use components from different suppliers including display panels, drives or memory sticks with similar specifications.
Case & Connectivity
The chassis is made out of glossy, white plastic. Acer's more vertical approach looks refreshingly different from the more common, rather angular designs. Unfortunately, the plastic is soft and quite susceptible to micro-scratches as well as finger prints. Thanks to the white color, these are much less noticeable then they would be on black, however. The status LEDs are incorporated inside the chassis in such a fashion that they discretely illuminate through the plastic. With a weight of 2 kg and overall dimensions of 155 x 107 x 107 mm, the PC is is both very light and small. To prevent sliding, Acer has equipped the Revo One with four rubber feet.
Except for the card reader, which is located within easy reach up on top, all other ports are housed on the back, which means that permanently connected cables don't get in the way and remain mostly out of view. The power switch is located on the back as well and quite small, so we found ourselves hunting around for it. Connecting a camera, smartphone, or other USB device requires access to the rear as well - a front-facing USB port would've been a nice addition. The card reader is capable of 87 MB/s reads and 62 MB/s writes with a Toshiba Exceria Pro UHS-II SD card inserted. The USB 3.0 port is also speedy and allows for reads of 414 MB/s and writes of 387 MB/s with a Samsung SSD T1 attached.
Input Devices
The included wireless keyboard features 80 keys and thus a standard layout. Since this is a compact design, there is no dedicated numerical keypad. The vertical arrow keys could be a little larger and the battery-level indicator sticker is just a dummy. The keys are arranged in a 19 mm grid pattern and feature decent feedback and remaining fairly quiet while typing. The mouse doesn't feel like it's a solidly constructed - maybe because the upper shell is removable to allow access to the USB receiver stored underneath. Of course, said receiver will take up one of the available USB ports on the Revo One.
Acer's Revo Suite App is supposed to offer another way of controlling the PC by replacing the mouse and keyboard. Although supposedly available for both Android and iOS, at the time of writing we could only locate the app in the Google Playstore. It seems iOS users will have to wait a little longer.
Display
For this review we had access to a high-resolution 27-inch Viewsonic VP2780-4k display. Although this particular monitor is designed for professional use and thus overkill for the Acer Revo One RL85, it allows us to check the 4k-capabilities of the Broadwell-equipped system. In addition to the IPS design with great viewing angles, the monitor offers a resolution of 3840 x 2160 pixels and is supposed to cover 100 % of the sRGB color space. With a purchase price of 900 Euro (~$1000), the monitor is quite a bit more expensive by itself than our review system. We'll take a closer look at the display during our long-term review update of the HP ZBook 15 G2.

The Acer Revo One RL85 features both an HDMI 1.4 as well as a Mini-DisplayPort 1.2. We found the 4k-resolution setting to only work adequately with the display connected to the DisplayPort at 60 Hz; the HDMI output at 30 Hz was choppy and only usable in emergencies. The performance is certainly sufficient for common office-type tasks, photo processing, Internet use, and video playback. Current 3D games or other demanding 3D-intensive applications are generally too much of the Revo One RL85.
Performance
The Acer Revo One RL85 makes use of the latest notebook technology and incorporates an Intel Core i5-5200U-CPU with an integrated Intel HD Graphics 5500 graphics unit. This combination offers enough performance for a variety of applications and usage scenarios. The benchmark results are posted at the end of this chapter; to compare the results to other review systems and components, please take a look at our comprehensive GPU and CPU benchmark lists. The Revo One handles common tasks like office work, Internet browsing, videos, and photo editing with aplomb. Casual and not overly hardware-intensive older games like Stronghold, Torchlight, or World of Warcraft are playable at modest resolutions and graphics settings.
Conversions without Intel Quick Sync video, CPU renderings, or video editing on a larger scale are a lot more time-consuming, however. Demanding 3D games and 3D renderings are out of the question altogether: the review system simply doesn't have a CPU with a high enough clock rate, sufficient number of CPU cores, or shader units. Acer can be blamed for a rather unnecessary bottleneck, as the company failed to integrate a second RAM slot. This not only restricts the maximum amount of RAM possible, but also prevents dual-channel RAM mode, which in turn reduces the graphics performance by up to 30 %.
PCMark 8 Home Score Accelerated v2

2735 points

Help
Storage Devices
The Revo One RL85 can house up to a total of three 2.5-inch drives. Our review model ships with a 1 TB SSHD system drive and a conventional 2 TB hard drive for data storage. With a maximum transfer rate of 116 MB/s and an access time of 18 ms, the system drive doesn't have any advantages over faster Solid State Drives aside from a good price-to-capacity ratio. The version with the 128 GB SSD system drive should be much speedier. Other drive combinations - RAID 0, RAID 1, or RAID 5 - are also possible. In Acer's opinion, the Revo One can double as a multimedia system, NAS storage, or as basis for a personal cloud ("Build your own cloud").
Seagate ST1000LM014 Solid State Hybrid Drive
Transfer Rate Minimum: 27.8 MB/s
Transfer Rate Maximum: 116.3 MB/s
Transfer Rate Average: 89.4 MB/s
3DMark Ice Storm Standard Score

40012 points
3DMark Cloud Gate Standard Score

4285 points
3DMark Fire Strike Score

557 points

Help
System Noise
Both the system noise as well as the observed temperatures are very low. We measured a maximum of 33.8 degrees C near the card reader and a maximum noise level of 35.7 dB, which means that the Mini-PC can be used on the desk without any caveats. When configured without conventional drives, the system should be nearly silent at lower load levels.
During normal use, we recorded a power consumption of between 10 and 20 watts. Under full load, 30 watts are possible - but it requires pushing the Revo One past what it was designed for.
Noise Level
Idle

29.1 / 29.1 / 29.1 dB(A)

HDD

29.1 dB(A)

Load

34.2 / 35.7 dB(A)




30 dB
silent

40 dB(A)
audible

50 dB(A)
loud

min:

, med:

, max:

PCE-322A (15 cm distance)
(+)
The average temperature for the upper side under maximal load is 16.9 °C / 62 F, compared to the average of 29.7 °C / 85 F for the devices in the class Desktop.
(+)
The maximum temperature on the upper side is 33.8 °C / 93 F, compared to the average of 34.4 °C / 94 F, ranging from 25 to 47 °C for the class Desktop.
(+)
The bottom heats up to a maximum of 0 °C / 32 F, compared to the average of 34 °C / 93 F
(+)
In idle usage, the average temperature for the upper side is 15.8 °C / 60 F, compared to the device average of 29.7 °C / 85 F.
Power Consumption
Off / Standby

0.5 / 0.7 Watt

Idle

8 / 8 / 8.5 Watt

Load

29.1 / 31.6 Watt



Pros
+
Expandability mass storage
+
4k resolution at 60 Hz using the DisplayPort
Cons
-
Only one RAM module (single-channel mode)
-
Power switch not easy to reach
-
Material scratches easily
Verdict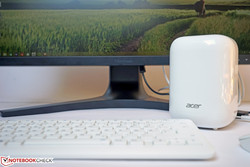 Mini-form-factor PCs are becoming more and more popular. Thanks to the latest mobile technology, the new systems are versatile, quiet, and frugal and are able to replace many old-fashioned desktop PCs.
Acer's Revo One RL85 is a complete package true to the motto: unbox, connect, use. Our review system packs more than enough power for the average home user and has some reserves for the future as well.
The chassis is easy to open and upgrading the hard drives is a cinch. Emissions and power consumption are low no matter the load level. 4k displays can be connected via the DisplayPort at 60 Hz and allow for a very generously-sized desktop. There's room for improvement, however: we'd like to see a second RAM slot, a USB port up front, and a chassis that's a little less susceptible to scratches. Those who are willing to accept the shortcomings end up with a solid - albeit far from inexpensive - system.
Ended up in the IT sector in the 90s more or less accidentally and have remained in the industry (as a sysadmin) ever since. Always been interested in laptops - first purchase was - if memory serves correctly - a Toshiba Satellite T2115CS with DX4-75 processor, 4 MB of RAM and 350 MB hard disk drive (and Windows 3.1). To this day, laptops appeal to me - much to the chagrin of my wife, who doesn't seem understand why we need 5-10 of them at any given time ;-).