AT&T and Verizon decide to lower energy emissions of their 5G base stations to ease FAA's concerns over mid-band 5G waves potentially interfering with aircraft equipment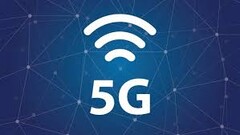 Earlier this month, the Federal Aviation Administration issued a bulletin voicing concerns over mid-band 5G potentially interfering with aircraft safety equipment, specifically the radio altimeter. Following the bulletin, AT&T and Verizon pushed back the launch of their mid-band 5G to January 5, 2022. Now, both carriers have decided to voluntarily lower the energy emissions of their mid-band 5G cell towers for six months after launch.
Explaining their decision, the carriers said that they are evaluating studies from radio altimeter makers and, in the meantime, are voluntarily taking," additional steps to minimize energy coming from 5G base stations – both nationwide and to an even greater degree around public airports and heliports."
While the FAA has presented studies to support its stance on mid-band 5G causing interference, AT&T and Verizon have maintained that there is no real-world example of C-band 5G interfering with radio altimeters anywhere in the world. The companies also stated that come July 6, 2022, they'll remove the limitations from the 5G base stations if there is no credible evidence substantiating the FAA's concerns. The FAA responded by stating that it is evaluating the proposition put forth by the wireless carriers.
The FAA is not the only aviation agency concerned over low-frequency 5G waves causing problems to aircraft equipment with the Canadian Department of Innovation, Science, and Economic Development (ISED) going as far as to ban outside 5G antennas near 26 airports.
I am Fawad, a fellow tech nerd. As a tech junkie, my relationship with technology goes back to my childhood years. Getting my first Intel Pentium 4 PC was the start of journey that would eventually bring me to Notebookcheck. Finally, I have been writing for tech media since 2018. From small no-name projects to industry leaders, I have worked with a number of tech publications.