AMD to ramp up GPU production to meet mining-related demand spike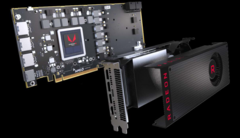 AMD has confirmed that the rise in cryptocurrency mining is one of the reasons behind the current shortage of its graphics cards on the market. Coupled with the general increase in overall demand, there has also been a shortage in memory supplies, which have also failed to match demand.
AMD has announced that it is ramping up production GPU production to meet the increased demand for GPUs. CEO and president of AMD, Dr. Lisa Su, used an investor call to make the announcement. It is good news for gamers and miners alike, who have seen the prices for GPU cards spike dramatically in the face of unprecedented demand, caused in part due to the rise of cryptocurrency mining.
AMD's RX Vega series of GPUs, in particular, have been very had to come by since launching in August. If one can be tracked down, they are often being sold well above the recommended retail price. While the cryptocurrency mining market has helped to lead to the shortage through the creation of a new market segment, overall demand for GPUs has also increased.
Interestingly, one of the main reasons cited by Su for the shortage is not so much the lack of GPU silicon, but rather a shortage in the supply of GDDR5 and HBM2 memory chips. AMD says that it is working with its partners to address the supply issues so it can get more GPU cards out to customers as soon as it can. With any luck, this could help to ease the pressure on GPU prices, which have become inflated by 20 – 30 percent in recent months.