A mobile Ryzen 3 3300X surfaces, but it's almost certainly fake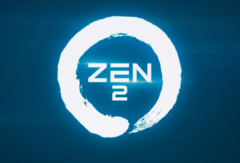 As one could expect, leaks and rumors, whether they're true or not, often times inspire people to manufacture leaks of their own for fun. This seems to be such a case where a Ryzen 3 3300X has surfaced on Userbenchmark; the circumstances surrounding this CPU are very peculiar and seem to indicate that this is nothing but a forgery.
It seems that the recent alleged leak of Ryzen 3000 specs (often described as "too good to be true") have inspired at least one forged benchmark of the Ryzen 3 3300X on an ASUS laptop. Now, it's hard to disprove whether or not a leak is true or false until products are released (or not), but in this case there's quite a few telltale signs that this is a simple name spoof done to fool the benchmark used, Userbenchmark. The benchmark reports an "AMD Ryzen 3 3300X Six-Core" running at 2.2 to 3.65 GHz and it scores pretty well. It's also paired with a mobile GTX 1060 and is in the "Asus ROG GU501GM" laptop, and now you can probably see where this might be faked.
First and foremost, we wouldn't expect AMD's next generation of CPUs to be in laptops so soon, and we would expect it to come in a new laptop and not an old one. Ryzen mobile and even Ryzen desktop CPUs slapped onto laptops took a while to come out and to see a 3300X in a laptop before the 3000 series is announced is hard to believe. Furthermore, there's good evidence that this is just a spoofed i7-8750H. According to other benches of this CPU using the same laptop, the 8750H performs almost identically to this 3300X, has the same base clock speed, and most importantly it uses the same BIOS. You wouldn't expect the BIOS version for two different platforms to be identical. While it would be nice to believe such powerful CPUs are coming to both laptop and desktop very soon, it's just hard to believe this particular benchmark.