Rumour | 3DMark leaks fuel theories that an Xbox Series S/Lockhart console is in development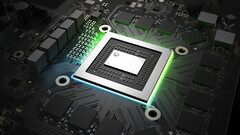 Microsoft has already confirmed that it will be releasing the Xbox Series X later this year, but there has been talk of the company having another lower-end next-gen console in development too. Now, _rogame has spotted some mysterious 3DMark listings of an AMD Ryzen APU that could be a glimpse at Microsoft's cheaper next-gen offering.
There has been talk of an Xbox Lockhart for a while now, most recently in December. Touted as a weaker version of the Xbox Series X, Lockhart apparently would target 1440p and 60 FPS gaming. Now, leaker _rogame has spotted what could be the console's APU. The Ryzen chip features eight cores clocked at 4.0 GHz 16 GB of shared memory, of which 4 GB is VRAM. _rogame presumes that the VRAM is GDDR6 too.
While an older 3DMark 11 listing does not make for impressive reading, a private Time Spy score that _rogame has the APU scoring around 7,100 points. This score not only puts the APU just shy of a Ryzen 9 3900X paired with a GeForce GTX 1660 SUPER but also within the capabilities of the RX 5600 XT, a 7 to 7.9 TFLOP card. Microsoft is said to be aiming for well beyond that for the Xbox Series X, leading _rogame to deduce that it could be a Lockhart APU.
Lockhart, which _rogame refers to as the Xbox Series S, is rumoured to be a digital-only console, too. Effectively, this would make the Series S a replacement for the Xbox One S All Digital Edition, but keep in mind Microsoft is yet to confirm the existence of a second next-generation Xbox. You can read _rogame's full analysis here.