Windows 7 increases in market share ahead of the Windows 10 anniversary update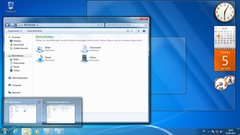 A recent survey shows a slight 0.5 percent bump in Windows 7 usage while Linux and MacOS command 2 percent and 5 percent of the desktop market share, respectively.
Microsoft has successfully delivered a well-received and constantly updated operating system with Windows 10. According to at least one study, the OS has made it to 20 percent of PCs despite the controversial security presets and forced updates that have angered consumers not wanting to upgrade.
Now that Windows 10 is in its last month of free availability, the market share for Windows 7 has grown just slightly according to netmarketshare.com who specializes in statistical studies of Internet technologies. Windows 7 purportedly makes up 49.07 percent of surveyed desktop systems for a rise of 0.5 percent compared to the previous month. Windows 10 is currently sitting at 19.14 percent.
Outside of Microsoft, Linux operating systems have risen significantly in usage to about 2 percent while MacOS now stands at just under 5 percent. Windows 10 will likely continue to gather momentum as larger companies are typically slower and more cautious when performing major company-wide software upgrades.
The Windows 10 anniversary update will come before the end of this month and will add even more features to the operating system including better security measures, improved pen functionality, and upgrades to the Edge browser to improve battery life.