Verizon Ellipsis 10 HD surfaces online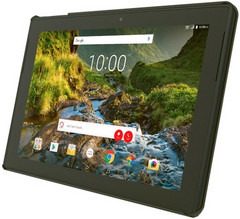 Although there are no specs to talk about at this stage, the image of this upcoming slate leaked by Evan Blass reveals that the next Ellipsis tablet runs what appears to be a stock Android build (maybe Nougat, but it might run Marshmallow as well) with a few Verizon Wireless apps added on top.
Although Verizon Wireless is well known largest wireless telecommunications provider in the US, the Verizon brand also entered the tablet market a few years ago with its Ellipsis line. The Big Red continues to focus on the Android tablet market, and it looks like the 10-inch Ellipsis will soon get an update.
VentureBeat's Evan Blass recently posted an image on Twitter that only comes with a few words that do not reveal any specs - "Ellipsis 10 HD for Verizon." The Verizon Ellipsis 10 HD will probably run Android Nougat, and we expect at least 2 GB RAM and 32 GB internal storage. Evan Blass' leaked image reveals two front-facing speakers, but there are also a few Verizon apps visible on the screen, although we cannot tell if the Android version installed is 6.x or 7.x.
The last 10-inch Verizon Ellipsis tablet arrived back in November 2015, retailing for $300 USD and featuring a quad-core processor, 1 GB RAM, 16 GB internal storage, and running Android 5.1 Lollipop out of the box.